Machine Learning Data and Visual Enrichment
Allow shoppers to find products no matter how they search.
Even if your search technology is super great – the challenge is in your product data, and whether it fits how users are looking for what they need:
Which elements of your product data do you make searchable?
Which elements of your product data do you allow to filter in search?
How can you enrich data to fit keywords that are not in your product data?
How do you handle spelling mistakes, typos?
Contact Us
Making Your Product Data Searchable
Depending on how your eCommerce platform structures product, you should determine which elements in the product data should be indexed in addition to the obvious product title.
In Shopify, these can include tags, vendor, product type, description, SKU, meta fields, and variant options. In Magento and BigCommerce, these can include description, SKU, and product attributes.
Making the selection is done simply by flipping a toggle in the dashboard.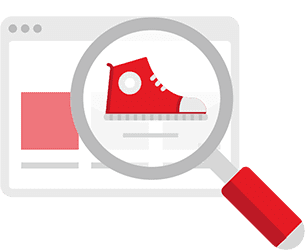 Allow Your Shoppers To Filter Your Data
Typically, search page filters (or facets) are generated automatically according to product tags or attributes and the actual search by the user. I.e. a search for shirt should generate filters for shirt sizes rather than shoe sizes. But things could get more complex with product variants. In this case, all you have to do is to specify the exact variant option, i.e. color.
But what if your product data is a mess?
What if you actually do not have color or style name in separate tags or variant options?
What if they only exist in the product keywords or tags?
Fast Simon allows you to create custom filters using data values taken from your product titles for example.
Big Data Synonyms Suggestions
Sometimes your customers aren't searching by product catalog keywords. For example, an apparel store that sells 'denim', which can also be searched as 'jeans'.
Using Fast Simon automatic BigData Synonyms Suggestions and AI techniques, we will display commonly used synonyms for your site, allowing better product discovery for your shoppers.
The synonyms can be multi-directional or single directional. We also support antonyms, and transliteration.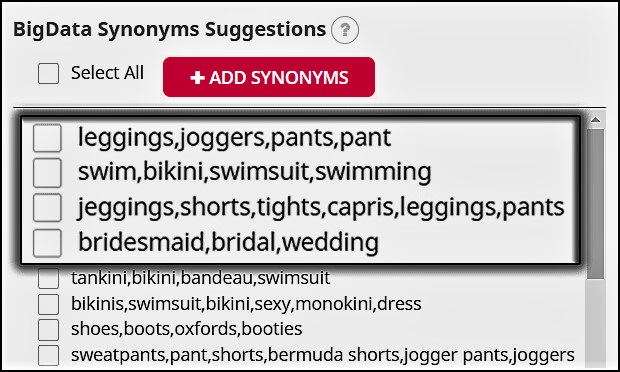 Visual Hyper Tagging
Whether your catalog is incomplete, you missed an attribute while importing it, or you just want to automate the product upload process, Fast Simon AI identifies the product attributes from the product image and automatically creates filters and makes the product attributes visible for search.
Fast Simon is harnessing the power of Artificial Intelligence to deliver normalized data, product attribution, and automatic segmentation to enable you and your customers to find products in no time.