Headless Commerce – Personalized and Consistent Shopping Experience
Optimize the entire shopping experience while keeping your store frontend intact with seamless API and GraphQL integration to an end-to-end headless commerce solution.
The UI Component Library further simplifies development with ready-made, React components that fit into any custom storefront, providing a quick and simple integration for developers for a fast, single-page app experience.
Contact Us
Control the way you sell – go omnichannel
The true advantage in Headless is the decoupling between the "Head" and the "Back-end", giving developers the freedom to develop and sell through any progressive web apps (PWA), using the app API.
Personalization – Understand the story behind the users' purchase intent. What is their specific personal style, along with their past behavior of searches, product views and product purchases.
Merchandising – Arrange and promote products according to customers preference, seasonal trends and your business goals.
Upsell & Cross-Sell – Upsell and cross-sell with personalized Product Recommendations and similar styles in order to boost engagement, and maximize your shop's conversion rates.
React UI Component Library
Simplicity and creativity? Functionality and speed?
The new UI Component Library (React) provides ready-made components for pure React single-page application developers and hybrid React/JavaScript storefront developers with only a few lines of code.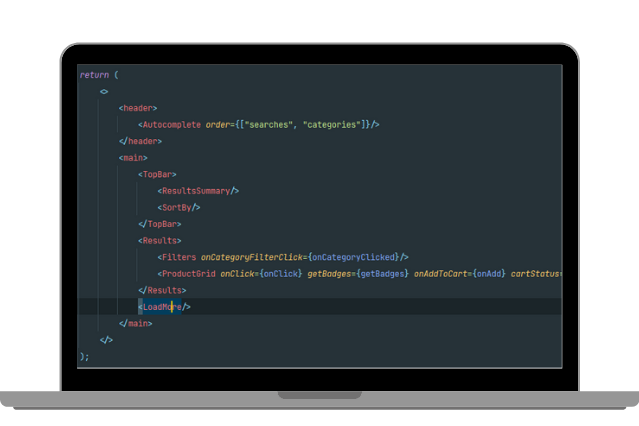 Indexing of your product catalogue
InstantSearch+ handles the task of fetching and syncing your products catalogue through the API. The products and collections will be automatically searchable and open to navigation.
Store owners can determine what products fields they want to index, thus making them open to InstantSearch+ ranking, filtering and other search capabilities