Personalized on-site search
Customers now expect a tailored buying experience and path to purchase. One way to exceed their expectations is by using a personalized on-site search.
By providing such an experience based on the shopping history, demographics, and personal preference of the customer, your business could potentially reap the following benefits:
Maximize conversion rate
Increase average order value (AOV)
Increase customer confidence in your brand and product
A personalized AI-based search bridges the gap between the brand and the customer, resulting in higher sales and customer loyalty.
Contact Us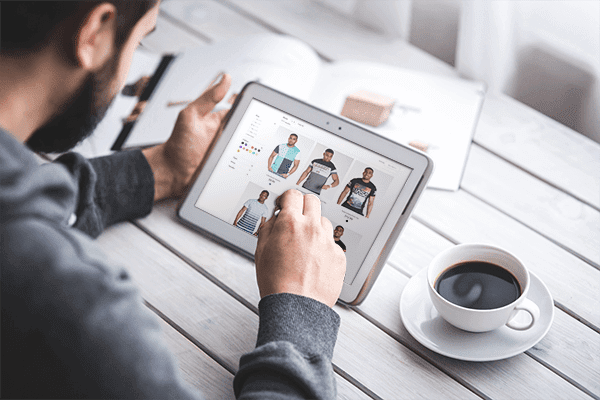 Achieving 1:1 Personalization With AI
How to make the user shopping experience truly personal?
Fast Simon dives deep into its AI and Machine Learning algorithm to address each customer's unique preferences.
Understand the story behind the users' purchase intent. What is their specific personal style, along with their past behavior of searches, product views and product purchases
Fast Simon is refining the search and adding more data to its layers, such as geography, referring site, device, time and day, weather, etc
Control what you want to sell – The final layer of user personalization is based on the merchant merchandising rules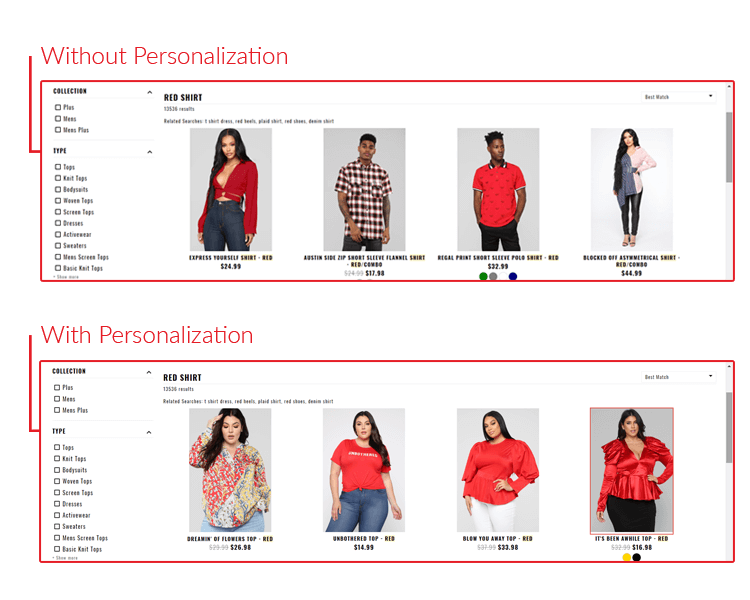 Tapping into Customer intent
Our customer searched and bought "Nike t-shirt". Should we:
Show them more t-shirts?
Show them more Nike products?
Show them products in the 'active wear' category?
Show them recently bought together products by other customers?
Understanding the customer intent is crucial!
Fast Simon machine learning algorithm is constantly adjusting itself to customer's intention in order to deliver the best results along with a superb shopping experience. Our AB testing tool is also here to help in learning what will be the best outcome to your store.
Get Personal With Product Upsell and Cross-Sell
Show relevant, category based results to your shoppers.
When a shopper add-to-cart a t-shirt, you can upsell with a matching pair of pants, or when they plan to buy a radio-controlled boat, show them batteries and chargers that fit that boat.
Real-time micro-segmentation with AI-powered predictive personalization is also a part of the product search, autocomplete and smart collections. Get the most relevant, tailor-made results in no-time.
10% Increase in conversion rate
According to InstantSearch+ 's analysis, personalised sessions have ~10% higher conversion rate compared to non-personalised conversion rate.
Customers spend more time on site
Customers who are in a personalised session, spend more time, on average, compared to non-personalised sessions. More time on site equals better customer experience with more product views, resulting in more sales.
Relevance
InstantSearch+ identify the customers' intent and deliver relevant personalised results, product recommendations and collection navigation in real-time. It's not a nice-to-have, it's a must-to-have!
Uncover shopper's intent in real-time
Our AI predicts each shopper's needs, using their unique preferences and in-session intent to personalise their experience in real-time.