BigData Product Recommendations – Upsell & Cross-Sell
Provide the Best Shopping Experience
Use customers' shopping behavior to increase your sales
Data-driven product recommendations automatically adapt to fit the shopper, and are proven to increase sales as well as customer satisfaction.
Match your customers with products they want to see
Personalized recommendations learn from individual customers, and show the best products at the best time to the right person.
Delight your customers and improve your bottom line
There is nothing better than the win-win approach of delivering exceptional service to your customers and reaping the reward in increased revenue. They deserve it, and so do you.
Contact Us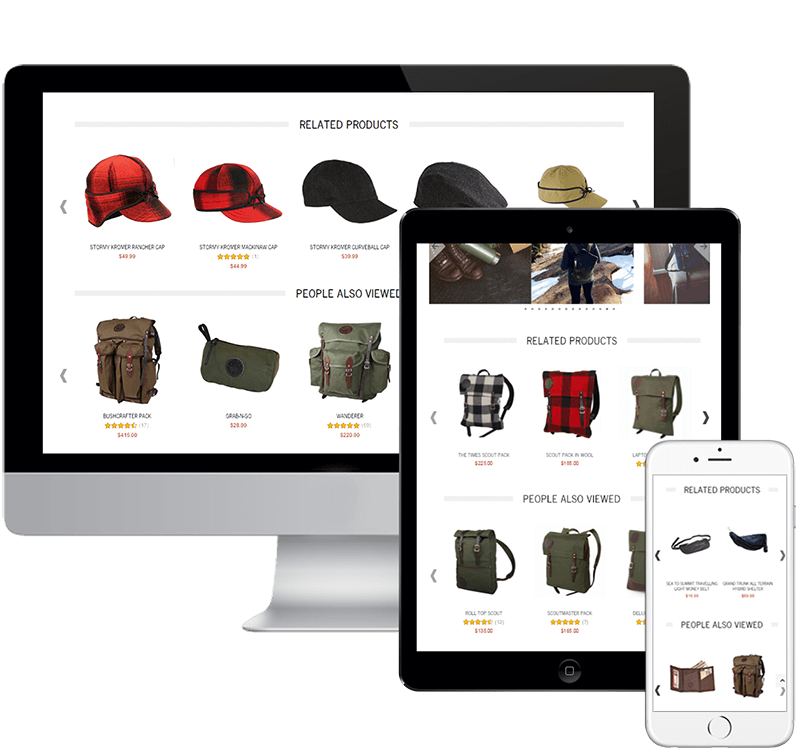 Benefits of Using IS+ Upsell & Cross-Sell
Increase Your Sales –  Amazon makes 30% incremental revenue from product upsells and cross-sells; you should too. Personalized product recommendations are proven to increase eCommerce conversions, cart totals, and return shoppers.
Make Life Easy For Your Shoppers – Online shoppers have come to expect smart-stores and seamless shopping experiences. Learning from their search, navigation, clicking and purchasing behavior enables you to display what they need front and center in your store.
Improve Your Store – Learning from your shoppers' behavior and intent gives you valuable insight into the online shopping experience that you are providing. Instead of only focusing on your products, smart recommendations allow you to focus on your customers.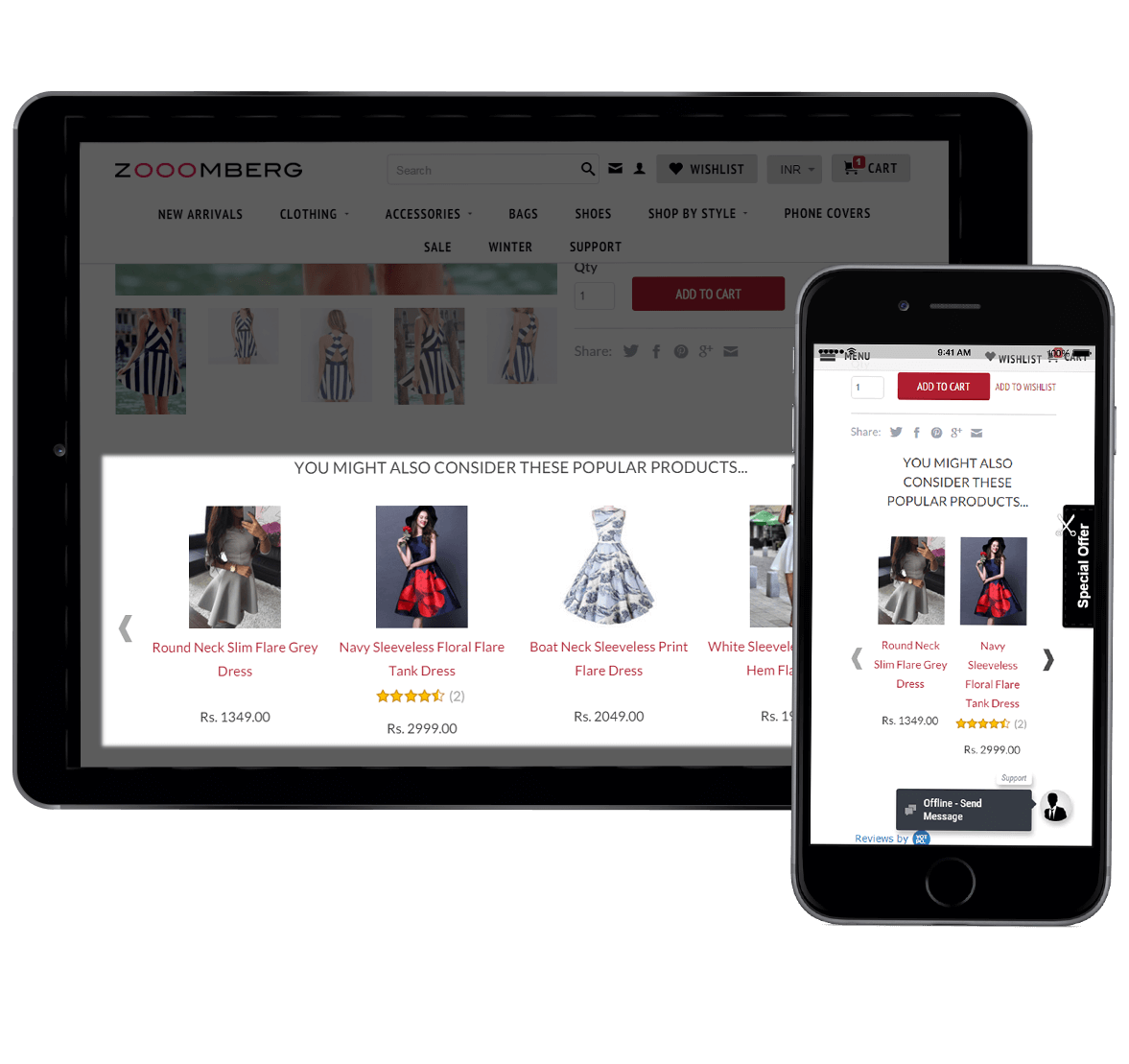 Advanced Shopper Experience
The smart algorithm continuously learns about your customers and improves their shopping experience
Deliver relevant and timely recommendations in an attractive widget
Match your shoppers' intent with personalized product recommendations
Offer related-products that matches shopper's intent
Easier shopping leads to more purchasing
Boosts repeat visits, larger orders, and incremental sales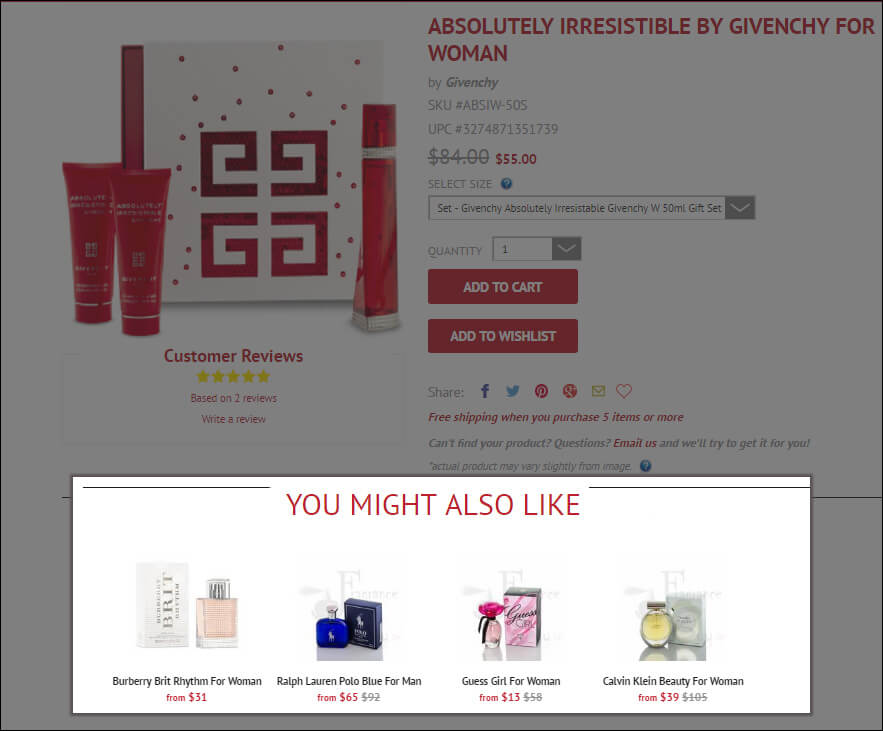 Customizable Widget & Value Proposition
Choose a horizontal or vertical widget for product or cart pages
Speak to your shoppers in your own words (i.e. "May we recommend…" or "Take a look at these…", etc.)
Looks and works great on all pages of your webstore, such as your homepage, product pages, cart pages, and even the checkout success pages
Enjoy the fully responsive design for mobile, tablet, and desktop
How It Works
InstantSearch+ collects shoppers' viewing, navigation, search, add-to-cart, and purchase behavior
Using data analysis, InstantSearch+ identifies the top products related to that unique viewer's onsite behavior
In real-time, InstantSearch+ generates the widget with personalized product recommendations
InstantSearch+ tracks shoppers' reactions to the recommendations, and uses these reactions to further improve the model