If the term M-Commerce, or Mobile-Commerce is new to you, then this post is the right place to be. M-commerce is playing a huge part in the direction that eCommerce is heading thanks to the giant impact that mobile phones have on our daily lives.
From the moment we wake up to the time we go to bed, we use our phones to perform all kinds of tasks such as checking the weather, using maps for directions, paying bills, reading our news, and connecting with our loved ones… seriously though, what would we do without them?
It is predicted that nearly three quarters of the world will use their smartphones to access the internet by 2025, and nearly 200 million people will use their smartphone to shop. All of these figures are pointing to the unavoidable facts that mobile phones are surely becoming one of the main access channels to customers.
What is M-Commerce?
M-Commerce, or Mobile-Commerce is any transaction that is done via mobile phone or tablet. It's likely that you yourself have done this before, so it's not such a new concept. Since modern society's addiction to smartphones is so strong, it's not surprising that M-Commerce has developed in this way.
E-commerce is the sales of everything on the internet. This means it can be accessed via desktop, tablet, mobile phone, or any other online medium the user wants to utilize. M-commerce is a subset of this, as it still involves internet commerce, but its focus is solely on mobile phones and tablets. It takes a deeper look at the benefits and difficulties of this new mobile-based culture, and uses this knowledge to the advantage of retailers and users alike.
What is the main advantage of m-commerce? It reduces hassle. It keeps things simple, in one place, easily accessible and findable on your mobile.
Benefits of M-Commerce
Aside from the obvious benefit that is already stated; the lack of hassle involved when everything is in one place (your mobile), there are many other benefits that M-Commerce has to offer. Let's take a look at them now.
Speed Advantage
When it comes to eCommerce, time is money, so giving customers the capability to buy things quicker than ever before has the potential to be very lucrative. This speed capacity of M-Commerce is one of the driving forces behind the huge growth of M-Commerce, and surges in online sales have come as a direct result of better user experiences on mobile. People want to be able to find and buy their products fast, and M-Commerce offers this potential.
One clear example of this is One-Click Checkout. Especially on mobile phones where people aren't so interested in low-intent browsing, being able to quickly locate the product then check out with one-click, all the while on your mobile phone wherever you are (the bus, the park, the shop) is hugely speedy and convenient.
We already know how important the payment process part of the buyer journey is, and M-Commerce can offer this in an easy and uncomplicated way. Capturing the customer intent with a custom button is another way that accelerates mobile conversions; reducing the number of steps required to finalize a purchase.
Better Customer Data
People accessing eCommerce stores via their mobile phones enable data such as name, sex, location, email, buying history, to be easily gathered via user-analytics integrated into mobile software. If you have a budget to incorporate this, and a high quality application, this data can be rich and valuable.
M-commerce has the potential to make various analytic tools available through mobile platforms that allow businesses to easily understand and target their users. Developing this same level of data on eCommerce platforms is not as straightforward, so from this angle the modern day retailer has some great advantages from mobile technology.
Improved Marketing Potential
Since most phones have location services enabled, location specific personalization and features become available for merchant marketing use. Ad technology based on demographics or geographies can help businesses connect with customers, increasing likelihood of conversions. These can also be teamed up with brick and mortar store incentives, as customers can easily locate the stores closest to them at that moment.
Marketing reachability is also greatly benefited by m-commerce, as marketing platforms (such as Klaviyo) that use SMS and email marketing notifications can reach the customers 24/7, at peak times and optimal trigger moments. As soon as they receive the notification, they are able to click through and complete a transaction. This is an unparalleled marketing opportunity.
A Real Omnichannel Experience
A mobile search can direct a customer from the web store to a physical store, or a transaction started on a mobile browser can be concluded via a mobile phone call. A search that started on the mobile can be completed on the website, and plenty more variations of these examples are available. M-commerce creates a seamless experience across all touchpoints, helping customers achieve an enjoyable and easy experience which is not only something that they deserve- it's something that they expect.
Modern day shoppers aren't linear, they mix social media, apps, email, browsers, live-chat, in-store visits and phone calls together. M-commerce goes hand in hand with this, and hand in hand with the growth of multichannel marketing.
Variety Of Payment Options
The importance of offering a variety of payment solutions is not something to be overlooked. As many of the diverse payment options are located via mobile phone; whether these are apps, online payments or wallets or one-click solutions. Other methods such as contactless, or Apple Pay mean that many people may stop using anything other than their mobiles to make payments in all areas of their life. Why then, should commerce be any different? M-commerce lends itself naturally to those who are already using their phones to complete the majority of their transactions.
Growth Potential
As well as appealing to all those who already use their mobile phone for many things, M-commerce is always targeting new customers. Millennials and Gen Z especially will expect up to date m-commerce platforms to be available for their shopping needs, and anybody who accesses the website or app is something who can become converted into a customer. There's no denying it; as time goes on, the bigger m-commerce will continue to become.
Things To Consider
Although there are many advantages to enhancing your m-commerce solution, there are also variables that should be considered in order to optimize the potential. There are certain points that should be taken care of when setting up your m-commerce system, in order to make sure customers are satisfied with the results, and your conversions will improve.
Considering An App
Despite the benefits of m-commerce, as a result of the lack of optimization of many mobile browser e-commerce websites, the average conversion rate via mobile is 1.8% compared to the 3.9% browser conversion rate. What does this tell us? That we still have a way to go in terms of mobile optimization. Don't get us wrong, if it's worked on the results can be amazing, but this takes some serious investment and effort. Basically, don't assume that just because your store has a 'mobile friendly' version, that will be enough.
A great idea is to create a mobile app. This boosts conversions, user experience and overall brand image. There are apps such as Tapcart which specialize in turning your online store into a functional and impressive mobile app. 51% of users prefer using mobile apps for shopping on mobile devices.
Benefits of an app include easy installation, push notifications to contact customers at all times, full responsiveness, offline work mode, self-updates and security included; the app has full involvement with the mobile phone and therefore the awareness of the customer. Lastly, an app improves mobile UX and doesn't have to involve slow site loading speed, which is known to reduce conversions and brand image.
Importance Of Simplicity
For smartphone shopping, whether this is via an app or a mobile browser; less is more. Mobile-friendly sites are not as comfortable to peruse through as browser sites, and a responsive storefront isn't enough to capture mobile commerce sales. Making things easy and accessible is the name of the game, and if you aren't able to do this then it might be worth investing more in the m-commerce system you have going.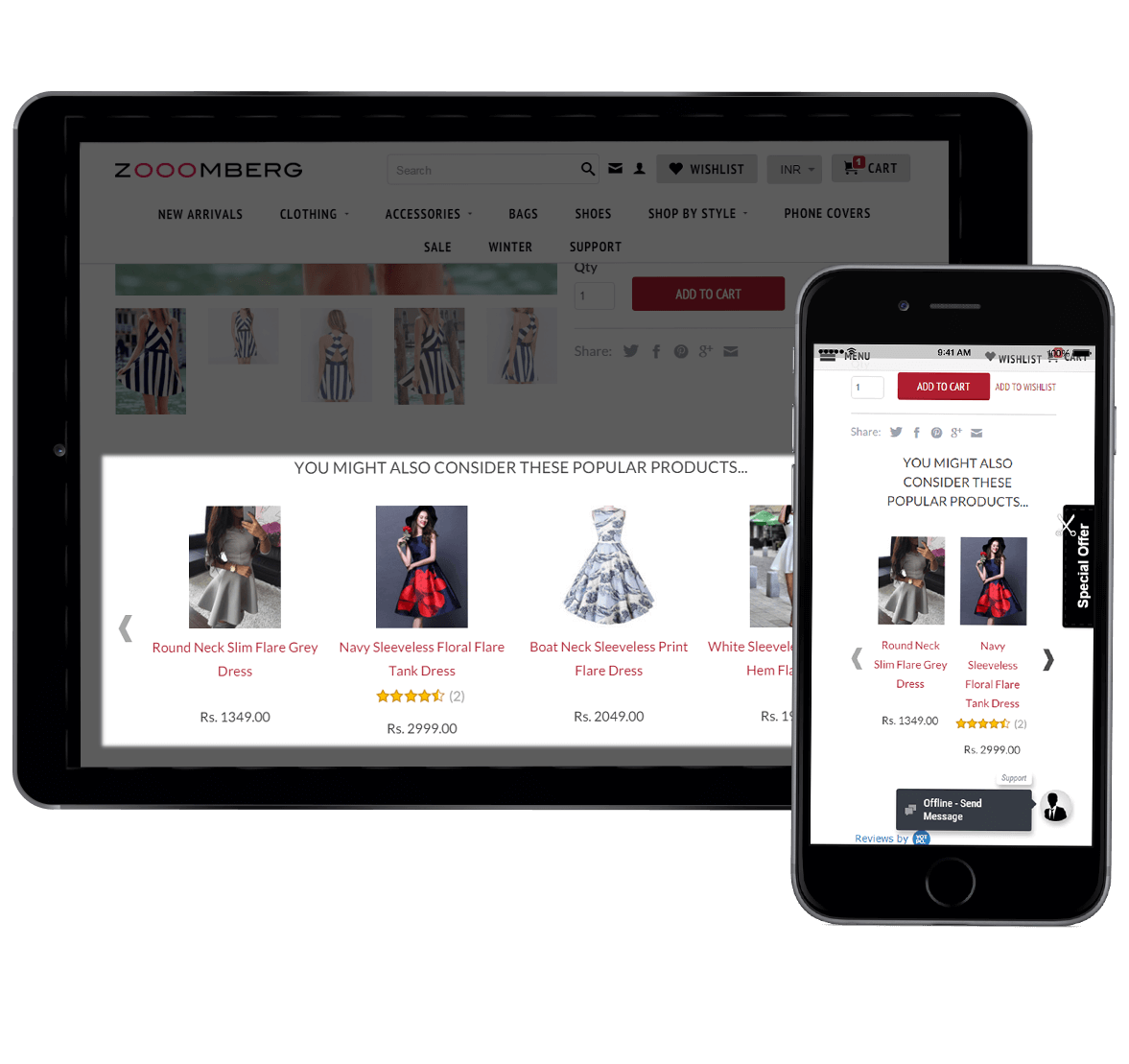 Location Differences
Just because a browser can be available globally, this doesn't mean that it will be optimized to work sufficiently in all these locations. Things such as payment options, security and privacy issues and formatting may need to be reconsidered for different locations. These must be considered in business plans and overall goals.
Security Issues
Customers in general are less trusting of completing purchases via mobile than they are on desktops, and 30% of smartphone users say they don't feel secure using mobile payment services. This is a big issue that needs to be faced when using m-commerce. Reassuring customers about your security systems, and ensuring you have all protective measurements in place is vital to the success of your m-commerce system.
In fact, there is a higher fraud risk when it comes to m-commerce. Fraud is the biggest prejudice, and as a business investing in this solution, it is a situation that needs to be looked into and dealt with. Don't leave it until it's too late and customers have been defrauded. One report states that more than 60% of marketers confess to having no preparation to block fraud via mobile marketing. If you want the best for your customers and business, fraud precautions should not be overlooked.
Consider Your Product
There is a correlation between the types of products people feel comfortable to buy on their mobile, and those they prefer to buy on desktop. In general, shoppers are quick to purchase small and inexpensive items such as toys, accessories and clothes on their mobiles. Bigger or more technical purchases however, such as electronics, homewares or ongoing services are more likely to be done via desktop computer. This doesn't have to be an issue; it just means that you should adjust your business plan accordingly. Having a functioning mobile site or app is necessary anyway, for business credibility. If it is unlikely that people will buy on their mobile, make sure that other communication portals are as accessible as possible. Also ensuring that all the information online is as clear and simple as possible could start to turn the tides about what other things people feel comfortable to buy via mobile.
Conclusion
M-commerce is the way forward, and having some kind of mobile friendly presence is now expected as the minimum in order to ensure brand credibility, customer satisfaction and increased sales. Making sure you follow the trend is important now, and will only become more important as time goes on and the significance of m-commerce continues to grow.