As the eCommerce industry continues to grow, adapting to the needs of both buyers and the merchants, we are witnessing changes in the way things run. Having an efficient, fast and appealing eCommerce website is absolutely essential to having good customer satisfaction and helping your business succeed. With such a competitive business market, it is more important than ever that your website is the best quality it can be. This is why the eCommerce world is moving towards no-code design.
The Problems With Current Web Design
It Takes Time & Money
The strong need for a high quality website has led many businesses to spend a lot of money and time ensuring that their online presence fits the ever-evolving standard required. This is a demanding process financially and mentally, as the investment and the wait can have negative implications on the business.
Merchants should be able to take control back of their online presence. Spending between $3,000 to $100,000 for a Web Developer to create your website is a big deal, and not only that, but it takes a lot of time. Waiting for this process to be completed by front-end developers can take six months, in which time many potential sales have been lost. But what other option is there?
It Requires Specialized Knowledge
eCommerce website development is an intricate process that requires specialized knowledge of coding in order to create the desired result. It's not something that can be achieved well without training, and this is why it takes so much time and money. But this immediately puts the possibility of creating your own website out of the question. The responsibility must be left to someone else, despite how important it may be to you to get it exactly right.
It's Someone Else's Creation
Unfortunately a consequence of this can be that after waiting all that time, the end result can still not be what you had in mind. After all, our creative visions are all individual to each of us. But this kind of a thing matters when it's your business and your voice that you are trying to convey.
Giving the customer the experience that you think they deserve should be non-negotiable, but until now it has been.
The Solution: No-Code Technology
So what can we do about it? Well, the people behind-the-scenes haven't been oblivious to this. They have been noticing the issues that come with a full reliance on front-end development, and they have decided to change the game. This is the introduction of no-code design technology.
Other companies such as Shogun Frontend have made a splash in the no-code editor scene, offering a no-code frontend editor. Well known names such as Wix and Squarespace have already established themselves, and therein the concept as something that is not only useful, but needed. So what are the huge benefits of no-code editing?
You Can Do It Yourself
Creating an eCommerce website that suits your needs, looks good, works fast and meets your expectations is finally accessible to everyone. Gone are the days when you had to wait months for a website, hoping that it would turn out alright and be worth the money you spent.
Instead, No-Code technology means that the control is in your hands. You can make all of the changes that you want, immediately.
No-code technology flips the script completely. Instead of website development being 95% coding and 5% design formula, this is completely reversed. Now the possibility is there for it to be 5% coding and 95% functional eCommerce best practice design, which means that any one of us can have an active role in creating the website of our dreams.
It Saves Time & Money
What's more, creating your ideal website now doesn't have to cost an arm and a leg! Rather than having to pay someone to create your masterpiece for you, you can do it yourself. This means that you can design everything in exactly the way you want it, and immediately- in exactly the time that you want it done. No more waiting until the designer is available; if you need something changing you can do this instantly.
It's An Accessible Tool
So how does this work? Well no-code page builders can now be operated by a simple drag-and-drop function. All of the coding has already been done in order to create the templates. You can simply choose the templates that work best for you, and arrange them in a way that suits your business and creates your ultimate desired design.
The language the new system works in is all visual. If it looks good to you, go for it! 
You can always change it afterwards if you change your mind or decide on a different sales angle. This change will just take a moment, as it's all under your control, and you don't need to confer with anyone else. This is the beauty: the power is in your hands.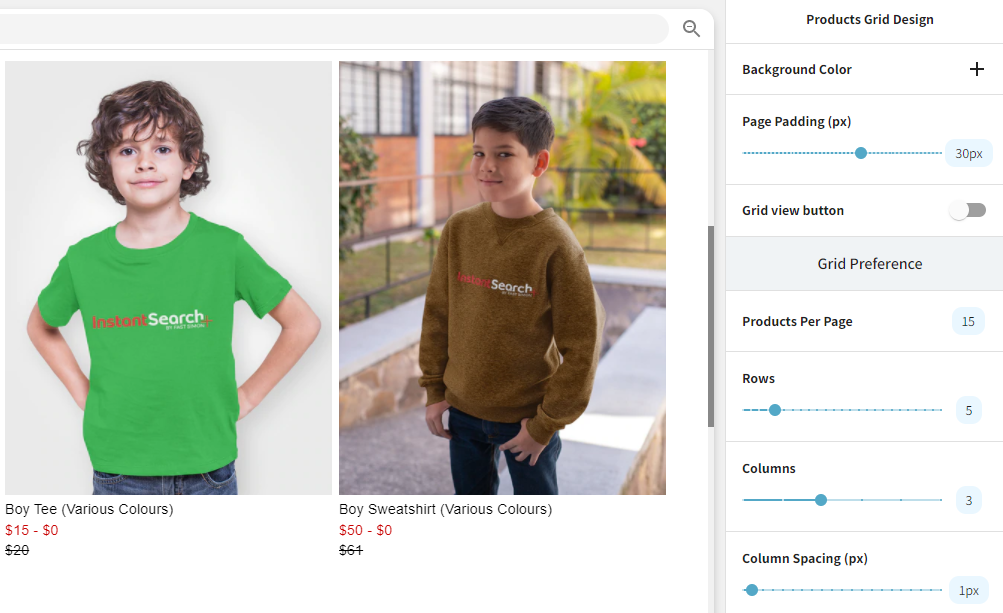 You Can Create A Website That Suits You
The end result of all of this is an engaging and appealing site that fits both you and your customers' expectations. You control the first impression the customer receives from your eCommerce page, according to how your business model works. Changes can be made to create more conversions, ensure repeat sales and allow customers to find what they want immediately, in the way they want it.
Fast Simon's No-Code Editor
Fast Simon's new Search and Collections no-code editor embodies all of these benefits, fitting the bill exactly.
The page builder offers you the possibility to design your own Search and Collections page, taking things into your own hands. This is vital as we all know how important the Search and Collections pages are when it comes to positive customer experience and boosting conversions.
A Publishing and Hosting Platform
As well as being a visual page builder, Fast Simon is actually also offering a built in publishing and hosting platform. This means that once you have made design changes and edits that you are happy with and you're ready to send the site live- you can do it immediately. It takes no extra steps to publish the page online.
Options For Test Runs
There is the option to try out the pages as a test before they go live, so you can be sure that you are completely satisfied with your creation. Once you have published your site, you can use the Fast Simon analytics dashboard to monitor the process, and any changes that need to be made can still be made as quickly and easily as you want.
Improve SEO
Fast Simon's editor has the huge benefit of being a fast server. You can increase customer satisfaction and engagement by super fast page responses. This will ensure you don't damage your business reputation by making customers wait a long time for the page to load and then losing interest in your brand and product. Instead, give the customers the amazing service they deserve, increase your SEO and boost your business.
Easy Integration
The new page builder has a strong integration process with all other websites, existing designs and browsers. Any previous design work on your website by developers will be saved and easy to return to, if you should want to.
There is strong compatibility with other options, so switching to and running the process will be as easy as designing the page itself.The feature is mobile friendly, and gives you all the amazing benefits of no-code web design, and more!
So what are you waiting for? The decision to take back control of how your website operates seems like an obvious one; the benefits are huge. 
Who doesn't want to save time and money, and end up with a more unique and personalized experience for customers?
Fast Simon has made a process that just a few years ago would have taken months, into something possible in just a few hours. We are proud to be pushing forward with eCommerce technology advances and making web design more accessible to everyone who wants it, including you.