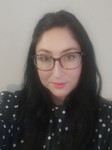 Kirsty Macdougall
Expertise
Content Editing, Copy Editing, Proofreading, Content Writing, Psychology, Education
Education
Bachelor of Arts in Psychology and Linguistics from Nelson Mandela University, Postgraduate Certificate in Education from Nelson Mandela University
Experience
With a background in psychology, English linguistics, and education, Kirsty Macdougall has transitioned to a full-time career in copy and content editing, proofreading, and content writing. She has also recently added copywriting to her portfolio of work. She strives to produce copy and content that is refined, error-free, targeted, and purposeful.
Quote From Kirsty Macdougall
"The writer by nature of his profession is a dreamer and a conscious dreamer. He must imagine, and imagination takes humility, love and great courage." - Carson McCullers
About Fast Simon's Editorial Process
At Fast Simon, we continually strive to bring you the latest e-commerce insights to help e-tailers optimize various aspects of the customer's online shopping experience. The editorial team comprises content researchers, expert e-commerce writers, experienced editors, and knowledgeable fact-checkers. We do in-depth research and planning before allocating topics to the most suitable writer. Writers use their first-hand experience, training, and reliable sources to craft their content. Once written, editors proofread and review the posts, and fact-checkers verify all content. Check out our editorial process for further information on how we deliver newsworthy and trustworthy insights.
Latest from Kirsty Macdougall