Remarketing vs. Retargeting: What Is the Difference?
Discover the differences between remarketing and retargeting and how each strategy can help increase conversions.

By

Jaques Cilliers

Reviewed by

Kelly Hendrickse

Fact-check by

Olivia Kashti
Updated July 17, 2023.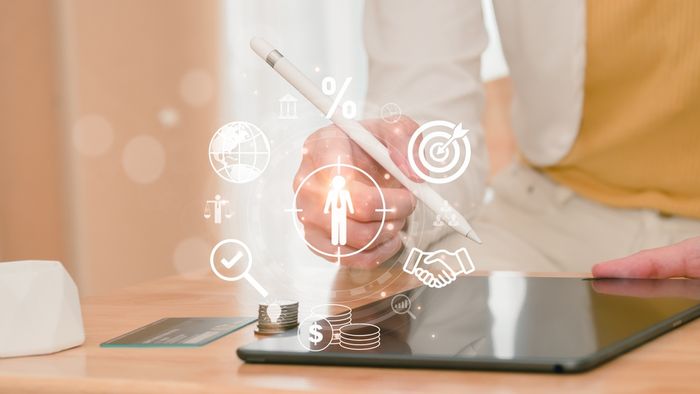 Remarketing and retargeting have subtle differences, even though both of these advertising techniques target users who have already shown interest in your brand. Retargeted ads have a 70% chance of conversion, while remarketing can increase your website traffic by 108%. So, leveraging these techniques effectively can help maximize conversions and boost your business's bottom line.
What Is Remarketing?
Remarketing uses personalized advertising to target people who have already interacted with or purchased from your website or brand.
Email is one of the best remarketing tools, as it has an 8.17% conversion rate. Email solutions like Klaviyo have almost endless customization options, so you can conceptualize and send any content to prospective customers. You can maximize conversions by sending:
Personalized email reminders about abandoned carts

Incentives, such as discounts and free shipping

Upsell and cross-sell

options
What Is Retargeting?
Retargeting uses cookies to track a user's browsing history on your site and then displays targeted ads on other sites that the user visits.
Retargeted users are three times more likely to click on the ad than those who haven't interacted with your brand before.
Consider this: a user visits your online clothing brand, browses various dresses, but doesn't purchase any. When scrolling through social media, ads for your dresses may appear on the user's feed. This can help your brand by:
Increasing the likelihood of a purchase

Improving brand recognition and reach

Achieving customer satisfaction through adequate

personalization
» Learn why customers are leaving your eCommerce store and how to make them stay
3 Key Differences Between Remarketing and Retargeting
1. Target Audience
Remarketing targets customers who have already made purchases and, therefore, are more likely to make repeat orders or re-engage with your brand.
Retargeting appeals more to potential customers who have shown interest in your brand or product by visiting your website or engaging with your social content.
2. Communication Method With Customers
Because remarketing is aimed at existing customers, communication is typically through personalized email or SMS campaigns.
Retargeting focuses on paid digital ads on different platforms, such as social media and search engines, and can include social proof to encourage conversions.
3. Calls-to-Action (CTAs)
Remarketing CTAs include direct engagement by asking customers to perform a specific action. For example, taking up promotional offers, signing up for loyalty programs, or providing reviews on recent purchases.
Retargeting CTAs are indirect, asking potential customers to take more general actions, like revisiting your site or signing up for a newsletter, to create long-lasting customer relationships over time.
Retarget and Remarket for Fast Conversions
While remarketing is effective for encouraging existing customers to make repeat purchases or engage with a particular product or service, retargeting reminds potential customers about their interest in your brand. Understanding these differences and your shoppers' intent can help you tailor your marketing strategies to ultimately optimize your advertising efforts and maximize conversions.
» Want to try AI? Find out how AI can improve conversion rates in eCommerce