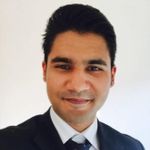 Adeel Qayum
Expertise
E-Commerce, SaaS, D2C, Business Marketing
Education
Master's Degree in Digital Marketing from Geneva Business School , Bachelor's Degree in Economics from Forman Christian College
Experience
Adeel holds a Master's Degree in Digital Marketing and is a passionate e-commerce marketer. He specializes in long-form content creation and has a conversion mindset, which helps him focus on elements that generate sales for businesses. Adeel can write both ToFu and BoFU content, as well as blog posts, email copy, ebooks, and whitepapers. In his free time, you can find Adeel salsa dancing.
About Fast Simon's Editorial Process
At Fast Simon, we continually strive to bring you the latest e-commerce insights to help e-tailers optimize various aspects of the customer's online shopping experience. The editorial team comprises content researchers, expert e-commerce writers, experienced editors, and knowledgeable fact-checkers. We do in-depth research and planning before allocating topics to the most suitable writer. Writers use their first-hand experience, training, and reliable sources to craft their content. Once written, editors proofread and review the posts, and fact-checkers verify all content. Check out our editorial process for further information on how we deliver newsworthy and trustworthy insights.