Ecommerce merchandising is the practice of strategically displaying and organizing products on an online store in order to influence, inspire, and entice customers to buy. eCommerce merchandising strategies can increase findability, conversion, AOV, and ultimately sales. Choosing how products are represented can fit business strategies and goals. A clear and accessible online design can boost sales and brand image.
The aim of ecommerce merchandising is to both improve the customer journey while taking care of merchant's business goals at the same time. Customer journey can be optimized for inspiration, findability, and personalization; while merchant's business goal can be optimized for inventory, margin, sales, and revenues.
How It's Different From Traditional Retail Merchandising
Ecommerce merchandising follows from the well established tradition of traditional retail merchandising, but has increased tenfold in intensity, frequency, exposure, and potential Whereas traditional merchandising may happen intermittently, ecommerce merchandising happens 24/7 as updates can be made automatically. It's fast-paced, non-stop and more complex than ever, with large product catalogs, shortened seasonality and rapidly changing inventories.
Consumer tastes are changing, affected by online and social media, so the shoppers change their preferences at a faster pace. Since eCommerce is not limited by physical shelf space, catalogs tend to be much larger, and the eCommerce journey can be more complex than in physical stores, so the online merchandising task is to simplify this. Unlike a physical store with a single door, there are many different ways that a customer may enter your site, and many different paths they could take whilst there. Ecommerce merchandising aims to deliver a great experience, relevant to the brand, for each and every customer on the site.
Despite the higher intensity, ecommerce merchandising has some power points compared to traditional. Unlike physical stores, eCommerce is 100% digital – everything is measurable. Hence, data is your friend, as it makes it possible to measure, analyze, take action, and repeat. Because it is pure digital, merchants can employ a variety of techniques from manual, to rule based, algorithms, and AI to optimize assortment, display, inventory, and inspiration driven purchasing. People are shopping from the comfort of their own homes. They may not have physical senses to stimulate them, but the user journey can contain visual stimulation in an equally engaging fashion. Additional information can be displayed without shoppers having to ask, and AI makes room for a uniquely personalized shopping experience that would be impossible to recreate in person.
Why Ecommerce Merchandising Is Important
Ecommerce merchandising is important for both merchants and customers. Firstly it appeals to the customers as it improves customer journey through better findability, display, and assortment – resulting in increased purchases and customer loyalty
Secondly, it improves business metrics for the merchant, be it conversion, AOV, sales, inventory, or margins. The way you merchandise your store is actually more important than the prices you're selling at. Whereas the prices are more than likely similar to market competitors, merchandising offers the brand a chance to shine. Focusing on the customer experience can increase sales, and meet business goals.
Elements of Ecommerce Merchandising
Personalization
Similar to a sales assistant who knows her customer in a retail store, personalization is key to ecommerce merchandising. Each customer can experience merchandising relevant to their needs; displayed in the most compelling way. An AI algorithm can use data points such as CRM data or click-profile data, to create an optimized shopping experience through a personalized customer journey
Every click on the site is a vote for its attractiveness, so personalization can be unique or broad, depending on trending products and overall website statistics. By using analytics and optimization, advanced merchandising is possible over every different section of the online store; homepage, collections, product page, search, etc.
Visual Merchandising
The dominant sense people are using when it comes to ecommerce is their sight, so the site has to look good. Visual merchandising includes using rich imagery, and even videos, to display and advertise products at their best. Accordingly, the images must be of a high quality and resolution. Images can be presented in different angles, or with different models, and there should be the opportunity for zoom. Customers should be able to view the products clearly. Visuals are not confined just to product tile images. Merchants can use Hero Images as collections headers, Promo Tiles to inspire customers, or Banners even within autocomplete dropdowns.
Store Layout
Unlike in a retail store, the online store layout is a blank page that can be merchandised according to your needs. The site layout should have a clear design, with clear navigation and creates a holistic customer experience. The layout should be focused on creating an easy user experience, whilst at the same time inspiring sales.
The aesthetic, look and feel of your store is all displayed by the layout. The visual organization of homepages, landing pages and product pages are all important. The layout should include attention grabbing imagery, effective and easy to use features, and intuitive navigation.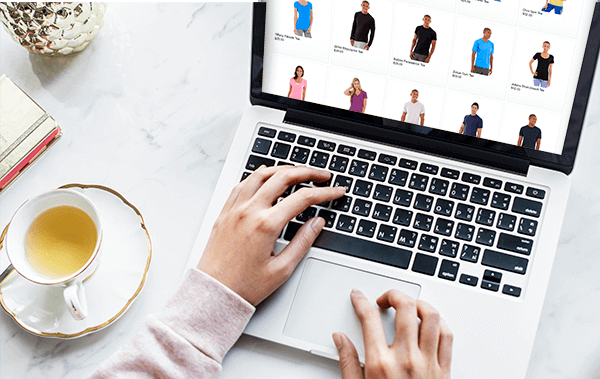 Homepage
Any hot deals complying to merchandising goals should be displayed on the homepage. Discount codes for first time shoppers, seasonal collections or items, or free shipping codes should all be highlighted here. In terms of a first merchandising push; the homepage is where this takes place- so special attention should be paid here.
Just like the shop window in a physical store is the first customer impression, the homepage serves the same function online. The homepage is the face of the store, delivering an impression of the brand and its values. The homepage should clearly explain the products, and who you are.
Branding
Sticking to one brand identity helps the ecommerce merchandising process, as it means that shoppers know what to expect when coming to, and returning from your store. Sticking with certain colors or fonts creates a brand image that shoppers become accustomed to. The brand logo, writing style and tone and other identifiable features come together to create a unique experience without detracting from the products themselves.
Product Grouping
Merchandising can use grouping together specific products with similar attributes, leading to product inspiration and an easy customer journey. For example, setting groups of color, material within a collection creates an eye-catching experience, or grouping several products to display together as a part of a set, makes it easy for shoppers to see the item in context, or even buy the whole set. Adding subcategories to pages, or linking together trending products and offers help sell products. Landing pages can display recommended products, as the curation inspired further purchases.
Cross-Sell and Upsell
Cross-sell and upsell merchandising creates shopping convenience, as the customer can see related products in one place. Pages can be tied together with modules such as; Recommended For You, Complete Your Purchase, Trending Products, You Might Also Like and Complete The Look.
Searchandising
Ecommerce merchandising is not limited to pages or collections, but having optimized search merchandising also provides great benefits. Merchandisers can control the order, ranking, and assortment of search results to fit the business needs. For example, promoting the inhouse brand over others, or using inventory to re-rank search results.
Search can involve visual merchandising, and can be optimized by AI. With a focus on a holistic customer experience, searchandising can ensure a consistent shopping experience.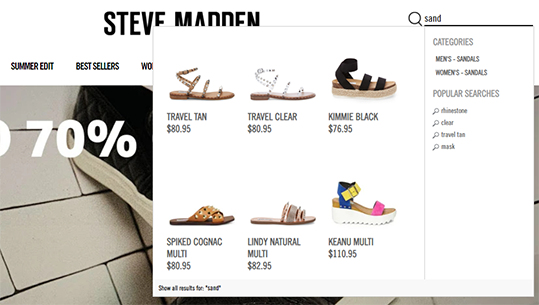 Omnichannel Merchandising
Merchandising online is not just limited to the store, but spreads to mobile use, social media and interactive engagement. Having optimized mobile commerce greatly helps ecommerce merchandising, as a huge number of people use mobile devices to make purchases. Not all channels are alike, so merchandising can experiment with various strategies for mobile, desktop, and native mobile apps.
Customers connect their online experience to their in person, merchandising can aid this. Shoppers may check online that products are in stock before heading out in person, or to view different options such as delivery, pick up in store, or other collection points.
Ecommerce merchandising takes these omnichannel considerations into account, removing friction from the digital shopping experience in all formats.
Social Proof
Social proof is key to establish and enhance shoppers' trust. Customer reviews, media reviews, social media links and UGC (user generated content) can all help to reassure customers of the high quality nature of the product before they make a purchase. Shoppers now expect this more than ever, as an increase of social proof creates higher ratings and brand trust.
Social commerce is a huge part of ecommerce merchandising, as it grabs the attention of customers and keeps them on the journey. If UGC leads to a follow on social media, the shopper has connected to the brand and is engaged in future marketing opportunities.
Conclusion
Ecommerce merchandising continues to grow in power at the high speed rate of the ecommerce industry. As online capacities continue to grow, so too does the vitality of online merchandising through all areas of the buying journey; from entry point to checkout. From small to robust features online merchandising has created a shopping experience that has never been able to be as personal, compelling, high quality and important as it is today.