They say that seeing is believing. We say that seeing is also clicking, loving, and buying. Visual discovery is changing the game when it comes to online searches, with machine learning now able to identify different elements on a photo uploaded by a customer, extracting important information, and showing the shopper a selection of image-related items they may like on your website. All without typing one single word. Ready to bring your conversion rates to the next level? Revolutionize the shopping experience on your online store with the help of cutting-edge AI.
What is Visual Discovery?
A new way to browse the web, site search, and shop, visual discovery uses the power of AI to identify the key elements featured in a photo uploaded by a customer. From a person's age and gender to product categories, brand, color, texture, material, style, occasion, shape, and more, visual discovery powered through AI makes anything captured on camera, seen on Instagram, or on another e-commerce website searchable on yours. And because visual discovery can target more than one product within a picture at a time, it can also be a great way to show shoppers items they didn't know they needed—but now desperately want. When using visual discovery search powered by AI, your average basket size and average order value are sure to go up. Think about it this way: if your favorite celebrity is looking fantastic on their latest Insta pic, do you just want to get that shirt, or would you prefer recreating the whole outfit and strutting your stuff in style? That's what we thought.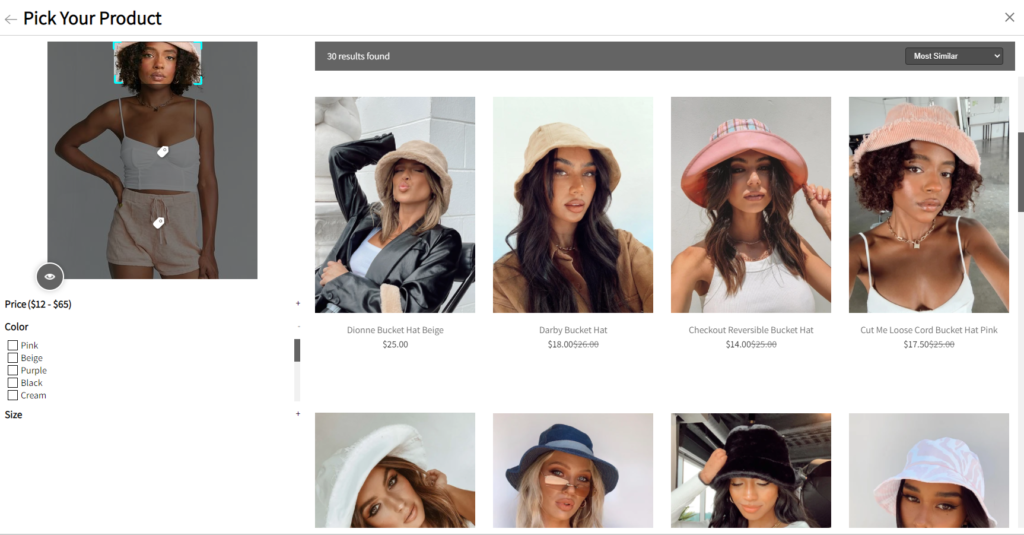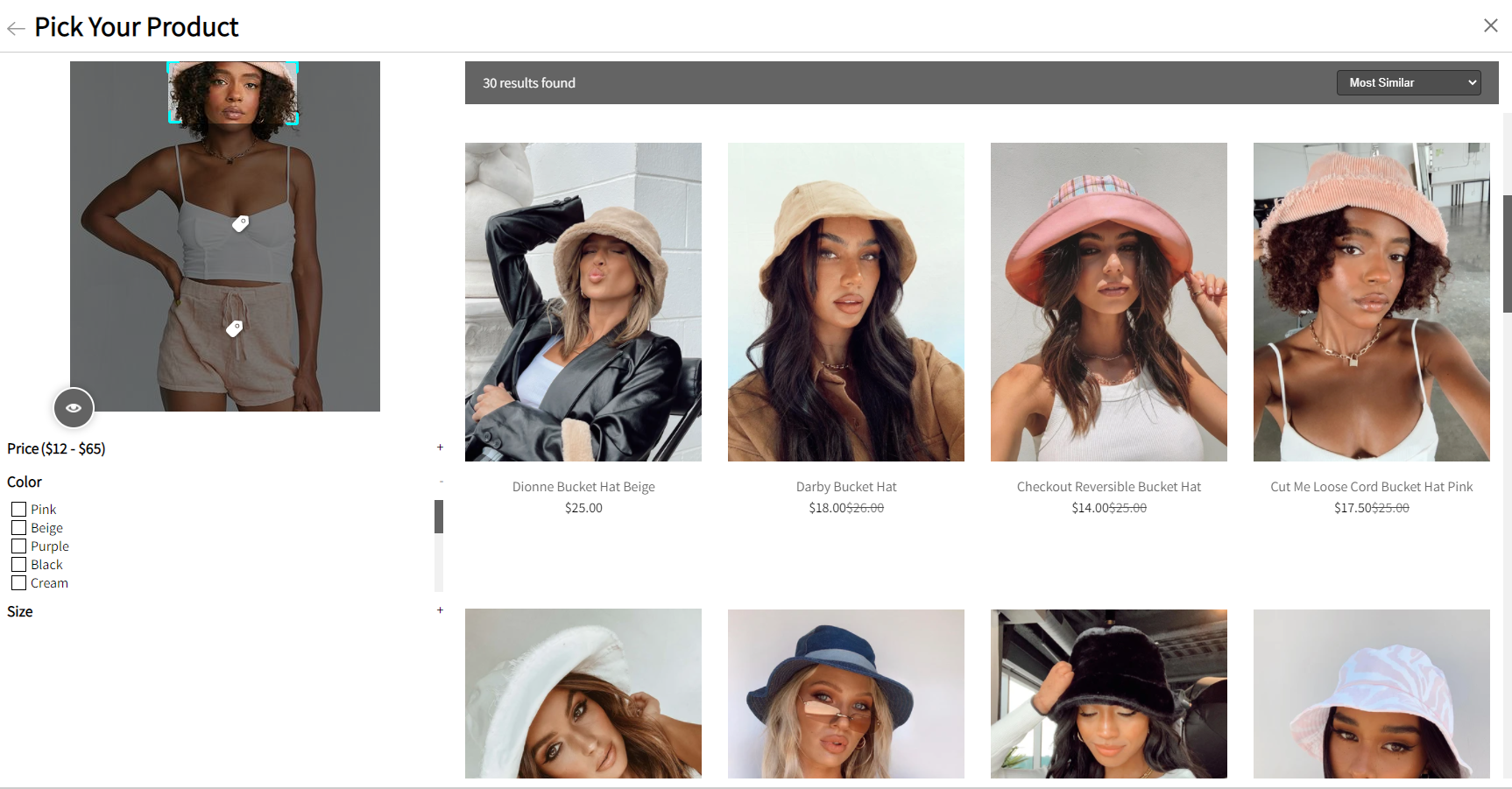 Like the specific hat in the picture above, visual discovery AI can also be used to help shoppers put full looks together by searching for specific items inside a product image. That means you can show your customer a beautifully decorated, fully shoppable room or an on-trend outfit, complete with shoes and accessories, and have them mix and match to their liking. This recreates the in-store shopping experience, except it's much more comfortable—who doesn't love online shopping in their PJs with a glass of wine in hand?
By using the power of an image, instead of the power of words, the search is also greatly simplified on your customer's end. Is the piece of furniture they've fallen in love with called a settee, a sofa, a loveseat, or a lounge chair on your website? Thanks to visual search, it doesn't matter. The search can be done without typing a single character.
Fast Simon Visual Discovery
Looking to give visual discovery a try on your e-commerce site, but not sure where to start? Fast Simon Visual Discovery is a newly released module, which allows visual search, an Instagram feed, a popular product feed, and "Shop the look" AI recommendations. Here's a breakdown of how this new technology could help revolutionize your conversions and your shopper's experience.
Visual Search
As stated above, Fast Simon visual search allows your customer to upload a photo in order to search for items similar to the ones pictured. This will break down everything shown on the picture into descriptive attributes, which will then be used to match the user's photo with some of the items on your website. And don't forget—visual search doesn't just stop at one item, it can search for anything on a photo. That means your customer ends up searching for items they didn't know they needed, are putting a full look together, and will end up having a bigger, fuller basket with a higher order value.
Instagram Feed
We're willing to bet that your business is already on Instagram, so why not use the platform's power to the fullest? Fast Simon can present your Instagram feed on your homepage or product pages, while making it fully shoppable.
Popular Product Feed
Always remerchandising your pages while looking at sales spreadsheets to figure out your top sellers in every category? Let Fast Simon do the work. Present shoppers with your most popular products, updated based on your custom rules. No online merchandiser, or looking to have them spend their time more efficiently? This is a perfect solution for you.
"Shop the Look" AI Recommendations
You've seen it on other websites before—time to put this incredible feature on yours. Present shoppers with different products that appear within images so they can create a full look. They'll have a ton of items at their fingertips, all in a style you know they already love, without having to go back to your homepage or to a category page, or to start another search. Don't lose their interest, make sure they buy more instead!
There's no better tool than the Fast Simon visual discovery suite to take your e-commerce website to the next level. Don't wait, get started today!