What is Visual Discovery?
Visual Discovery is the new way to shop online. Whether from your phone or computer, Visual Discovery offers what has been previously unavailable to online shoppers; an immersive online shopping experience.
Visual Discovery first came onto the scene in 2017, when Pinterest launched their Visual Discovery tool 'Lens'. After the success this innovative offering saw, it was clear that this would become an important part of all e-commerce moving forward.
The Visual Discovery Tool
So what is Visual Discovery? Well, it's an immersive tool that creates an easy and engaging shopping experience, based on image. Humans are visual creatures. We use our eyes and sight to make quick decisions about pretty much everything we encounter. Whether it's first impressions of someone we meet, clothes we want to wear, or food we eat; we can't deny that our sight accounts for a lot of the way we view things.
As Zohar Gilad, CEO of Fast Simon put it:
"Images are one of the most powerful inspirations for shoppers, especially in fashion."

businesswire
In fact, MIT statistics show that 90% of the information that enters the human brain is visual (intelistyle). Visual Discovery takes this understanding and transforms it into a superior shopping experience.
Visual Discovery (an advanced method of merchandising) allows customers to site search for, and find products without the need for words, text, spelling mistakes, or in some cases, any thought at all. Visual Discovery allows products to be sourced from an image base only. To put it simply: you see it, you buy it. Our interest is captured by the image we see in front of us, and we don't need to do any guessing about what the product might be called, or how to find it; the image simply directs us towards the desired product or something similar.
The Visual Discovery tool essentially does the 'searching' work for us. If we see an outfit we like online, it is possible to pinpoint each different part of the outfit; what they are wearing, (whether a single item, or multiple items) and how you can purchase it. If you can't purchase this exact one, the tool will also direct you to other products that are similar.
This gives a range of possibilities stemming from the one image sourced: a brand, alternative options, or even how to style the whole outfit. This works well with fashion or any product that could be sold on an e-commerce site; all it needs is a picture of the products available to be sold.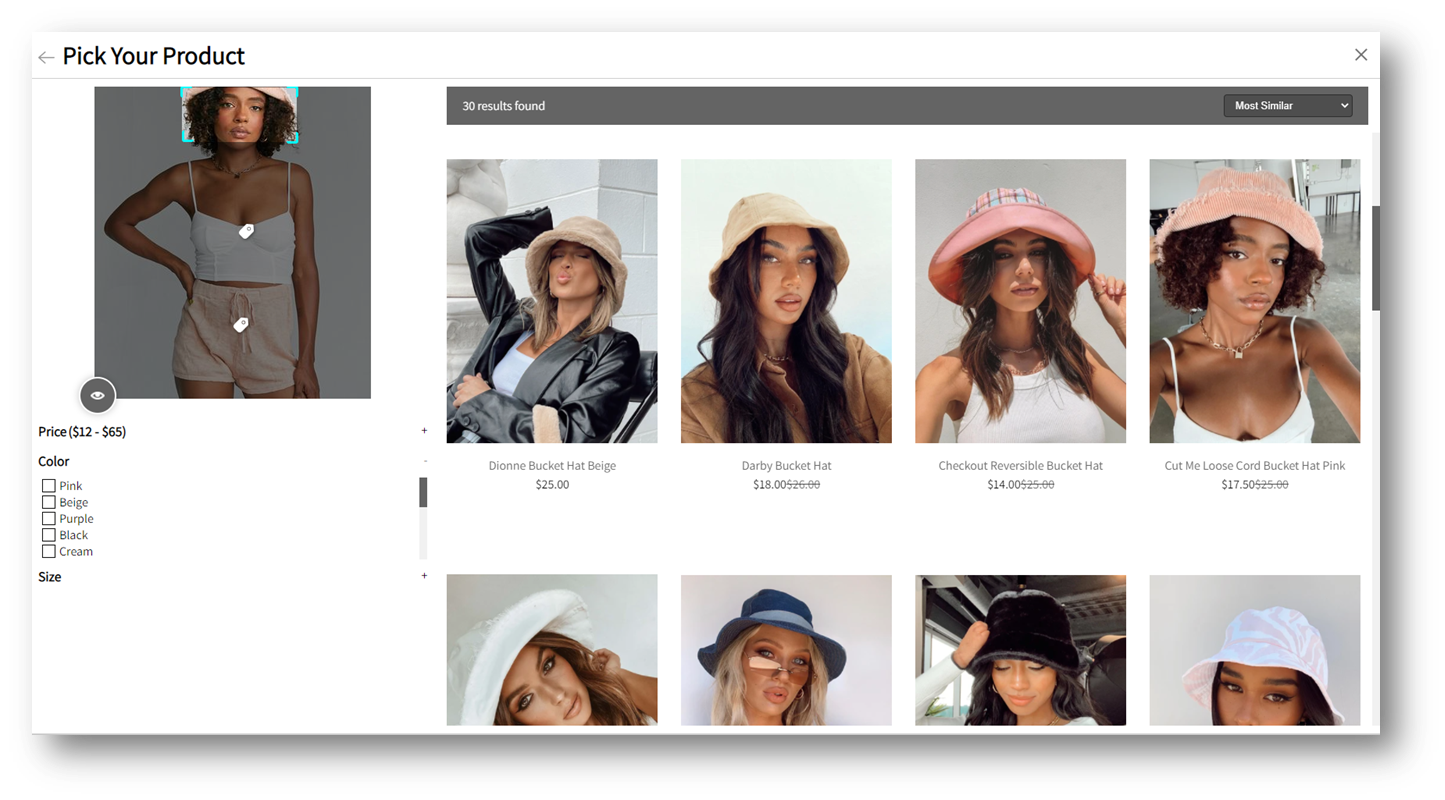 How does it work?
When the image is picked up by the Visual Discovery tool, the AI detects features and patterns and the algorithm identifies and breaks it down into precise visual attributes. Once the AI has identified the colors, shapes and patterns, it analyzes the product inventory and ranks them from those that are most close, to those least close. According to what it finds, it will then suggest that product or similar products, to provide shoppers with what they have seen in the image that was scanned.
The number of results displayed from each site search can then be customized in order to best serve the business and customer needs. Any dashboard analytics system installed (such as that provided by Fast Simon) can then show you how effective your choices are, you can edit them as appropriate. 
In the case of Fast Simon's platform, the AI will then continue to learn the individual customers preferences as they interact more with the tool, and as they interact with the store more through this, the visual search recommendations will become more personalized and accurate.
What can it do?
Visual Discovery can automatically recognize product categories, age, gender and camera search results. By providing accurate results based on the images the customer is looking at, the shoppers' needs will be met seamlessly. Multiple objects can be found from a single image, which creates a dynamic and engaging discovery journey. This is an incredibly user-friendly experience that drives up the average order value.
This is an immersive shopping experience, as customers can use their smartphones to find products through Instagram posts they like. From browsing social media, customers can be directed to catalogs and instantly find matching results through just one click.
Why are so many people using Visual Discovery?
So now we know what Visual Discovery is, the next question is; why use it? What are the benefits that this tool has to offer? Well, there are many. Some of these are obvious already, but let's take a deeper look here.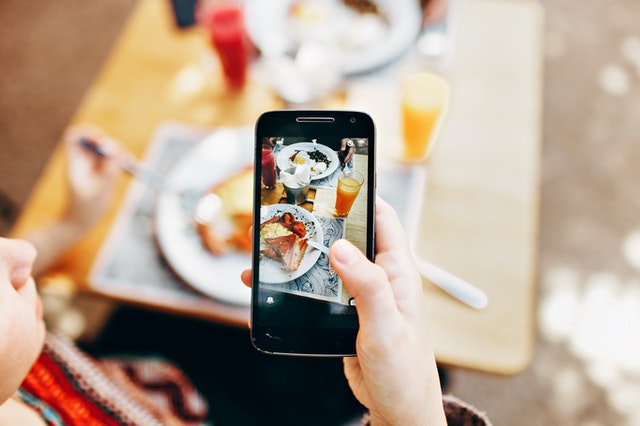 It Provides The Inspiration
One of the most powerful benefits of Visual Discovery is that it inspires ideas. Simply by seeing a photo, someone can be inspired to purchase the whole outfit or something they didn't realize they even wanted.
It's a fast and effective way of making sales, creating cross-sell or even upsell items. The pressure is removed from the customer, and purchasing decisions can be made easily without any stress. The visual element creates a more natural shopping experience for the customer, with a similar effect to asking a friend; "Where did you get that top from?"
Inspiration is ready at your fingertips. The path from inspiration to product discovery is something that happens organically in a physical store, and now is finally also available online. Shopping in the real world comes from looking, and seeing what we like, and now the same is possible with Visual Discovery.
Creates Quick Sales With No Delays
As we have seen, Visual Discovery creates an immediate path from inspiration to product discovery. People see something they like, and can immediately purchase it. This seamless journey from seeing to buying decreases purchase failures, as people are able to source exactly what it is they want.
Optimal outcomes arrive from shoppers having uncomplicated shopping experiences. Visual Discovery means they don't have to scroll through pages of unnecessary products that they aren't interested in, but only options that tailor to their needs and interests. This creates goal-driven product discovery with an ultimately higher conversion rate.
In a time of rapidly reduced attention span of digital shopping journeys, Visual Discovery gives you the key to capture the imagination of the customers with minimum work. Visual search technology has been shown to increase the speed to checkout by 2x. This leaves less time for hesitations, or for being unable to find what is required. At a moment when time is one of the most desired commodities, Visual Discovery provides instant gratification whilst at the same time creating a more interactive user experience.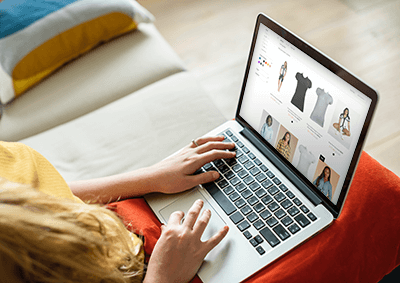 Solves The Text Problem
Until now customers have had to name and describe items they are searching for, however, relying only on text can create problems. The key-words might not match the product attribute or tag names. Many products, especially in fashion, have unique terms that the average consumer may not know. Sometimes even if the customer can list the right words, they may not be applicable to what they are searching for. And sometimes, there are simple human errors such as spelling mistakes. Where words fail, visualization can take over.
The combination between text and visual search doubles the potential for possible searches and conversions, leaving no room for missed sales on the business end.
It's Compatible With Culture Trends
We all have seen the effect of the rise of social media on the way people act. 74% of customers are influenced by visuals on social media when they make a purchase, and this number will only continue to grow. Visual Discovery uses this trend of image based consumption to impact the way customers are able to purchase.
9 out of 10 shoppers trust social media influencers more than traditional adverts or endorsements, which means that images sourced on social media have a huge amount of influence over purchases made. 60% of Gen Z shoppers discover products on social media, and 62% of Millennials want to be able to search and discover products using images that inspire them.
Visual Discovery is hugely relevant to this trend, growing overall sales without any additional marketing effort or cost. The popularity of Instagram and other social media platforms work hand in hand with Visual Discovery, a key reason behind its power and success.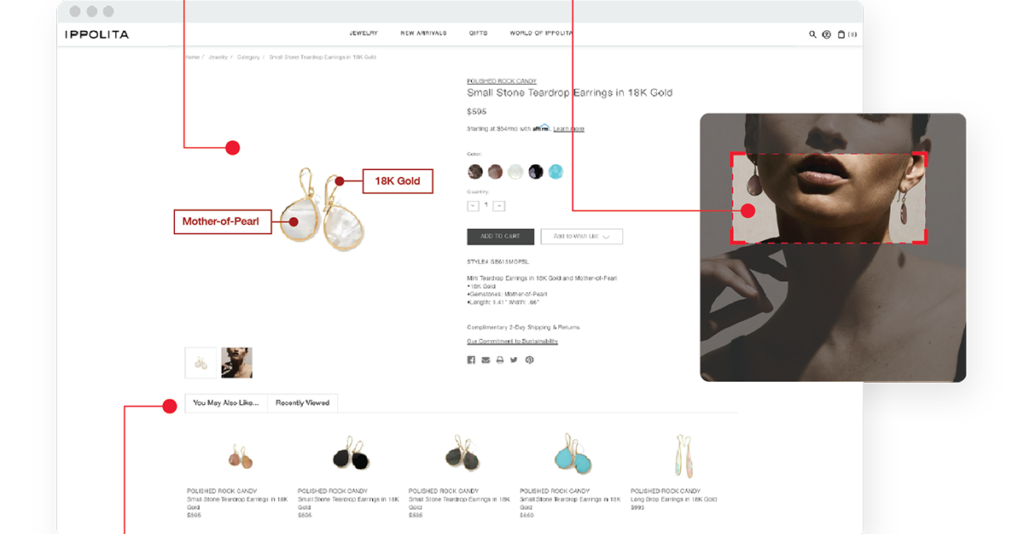 Gets To Know The Customer Better
The data that is available to be collected through Visual Search provides clear statistics with easily traceable results. When a customer uses visual search and then purchases a product featured, or a similar alternative, it is simple to trace this back to the visual search. This shows customer inspiration and interests.
Group customer data can be gained as products and categories that receive most attention are able to be identified. This means that retailers can direct more focus and attention to these areas, as they have been seen to generate positive results.
This deeper insight into what individual customers, as well as customer segments are interested in, is precious information. The Visual Discovery inquiries give a deeper understanding of taste, purchase drivers and motivations. Channeling this knowledge into marketing efforts can also help inform product mix allocations and future buying decisions.
Creates Upsells And Cross-sells
As an obvious benefit to any platform in e-commerce; Visual Discovery succeeds in creating more sales. Through being able to find more than one item from a single image, customers are readily given the opportunity to purchase more than what they had originally thought of. This upsell potential comes through the 'Shop The Look' suggestion, which not only shows the pants the customer searched for, but also a top, hat, belt or other accessories that suit the style. Since these are all easy to find and buy, the possibility of impulsive last minute purchases before checkout is increased.
Furthermore, it turns a stock shortage problem into an opportunity. Seeing that products are 'Out of Stock' usually causes customers to close tabs and stop online shopping; it does not create a positive customer experience. However, Visual Discovery technology helps to keep customers online and engaged as instead of simply saying things are 'Out of Stock', a range of similar alternatives at different prices are presented, all of which are in stock.
As you can see, there are many ways that Visual Discovery boosts sales, customer engagement and experience, all with very little effort from the retailer themselves.
How Can Fast Simon Help?
So by now you're probably convinced that a Visual Discovery tool is the way to go, but now you're wondering where to find one? Don't worry, Fast Simon can help. Fast Simon's Visual Discovery tool is already successfully in motion, helping online retailers increase their conversion rates by 5x or more, along with several other important benefits.
Easy to Integrate
Adding Fast Simon's Visual Discovery tool to your website is not hard. Adding a software solution such as this, used to be a complicated process, as it was a sophisticated software integration procedure. However, Fast Simon solved this problem and it is now an incredibly simple procedure; you simply flick a switch. After that, your Visual Discovery suite is turned on and you can sit back and watch your sales increase.
Gives You The Tools To Follow The Progress
Fast Simon's analytics dashboard has been praised by clients as being incredibly effective and useful in following customer behavior, which in the context of the Visual Discovery tool, remains advantageous. The sophisticated dashboard provided gives analytics on shopper engagement, conversion and average order value. It will show you exactly what images were uploaded and used, and how they impacted conversion rate. Using these easily accessible statistics, your business can make the most of all the data available, and use it to your advantage.
Furthermore, the Fast Simon platform can actually use this data to automatically present shoppers with the most popular products that have been updated based on custom rules. Once you choose your preferences, this can be done without any further action on your part.
It Works Perfectly With Fast Simon's Other Modules
The Visual Discovery tool provides a new and innovative way of inspiring customers to make purchases, and making sure that the number of conversions increases. Other capacities such as the Synonym suggestions and auto-correct, also do the same thing.
Therefore, with the combination of accurate and fast text and visual search options that Fast Simon offers, it doubles the possibility for creating successful searches and conversions. Combining all of Fast Simon's technology together truly leaves very little room for missed sales on the part of the e-merchant.
A Superior Shopping Experience
If the customers have come to the website with a product in mind, the Visual Search capacity will take them to the desired product immediately, and this has been shown through reduced browsing time on the Fast Simon merchants' dashboard. This is great, as it shows a successful shopping experience.
However, there are also customers who have come to the website without a particular purchase in mind, and rather just to see what's available. The Visual Discovery tool grants them a far superior browsing experience, in the same way that they would in a physical store, and in a way that would be impossible without Visual Discovery. An increase in engagement time for these kinds of customers creates an overall better shopping experience, and an increased average order value.
It Really Works
The retailers using Fast Simon's Visual Discovery tool have already been feeling the advantages of the tool. One such user; Rockstar, an alternative clothing brand, said that it enabled their 400,000 Instagram followers to be inspired and instantly purchase, leading to a 400% increase in conversion rate for shoppers engaged in visual discovery. Customers were given the opportunity to expand their shopping experience and discover new ideas.
So What Are You Waiting For?
There's a reason why Visual Discovery is quickly becoming the popular formatting for online sales. Use of the tool creates increased buyer engagement, improved conversion, higher revenue and an increase in average order value.
With Fast Simon being able to offer all of this with just the flick of a switch, there's really no reason to not become involved. So don't get left behind! Become a part of the Visual Discovery trend now, and watch the benefits come rolling in.