The fashion market is the biggest segment of B2C eCommerce. This keeps on growing with increasing mobile commerce, more streamlined eCommerce experiences, and discounted prices. Despite this, there are still some challenges facing the eCommerce apparel industry, which require overcoming. Let's take a look at them now.
Challenges
Coping With Demand
Making sure that your shoppers are met with the products that they desire at the right time in the right place is very important. Certain products may become trending and the demand for them might skyrocket. Missing these opportunities to provide would cost your business sales, and lose customer satisfaction. On the other hand, you don't want to have overstocked produce for an item that simply won't shift.
Geographical locations, customer insights, trending products and seasonality are all factors that could affect demand. Some of these can be considered in advance, but some are unpredictable. Your main goal as a fashion business is to meet the shoppers needs and expectations, whatever they may be.
Solution
Product forecasting is a great way to be able to predict what your shoppers will be looking for. Past analytics can help determine patterns that have occurred in the past, and therefore might repeat in the future. Staying on top of trends is also important to make sure that you don't miss out on opportunities.
Running Optimized Promotional Campaigns
The fashion eCommerce industry runs more promotional campaigns than any other industry. It's something that shoppers expect, and is a great way of boosting AOV. Especially through cross-sell and upsell recommendations. On many fashion sites, discount codes are offered, there are BOGOF (Buy One Get One Free) options, and there are free gift offers. This is a pretty standard industry practice.
The challenge is how it is possible to pull this off effectively. There are many questions to ask when it comes to creating these bundles, offers and promotions such as:
What will be most effective?
Which price will work best?
What items should be bundled together?
How much discount should be offered?
Solution
There is bulk action technology that can help solve this problem. Rather than having to individually think out every discount, bundle or promotion offered; bulk technology can do this together. It can create updates and changes to product listings in bulk. This reduces time and stress of having to make single case edits.
Creating bundles or lists on a higher format is the most effective way of creating an optimized strategy. It's also important to have a strong strategy thought out in advance that spans across quarters. Bundles and promotions work best when they are in coordination with each other, and seasonal events.
High Return Rates
67% of shoppers check the returns page of your site before making a purchase. When people make online purchases they don't know whether it will end up fitting or being what they imagined. This is an inevitable part of fashion eCommece, but there are ways the issue can be smoothed out. An optimized process when it comes to handling the practicality of returns is required. An optimized process is also required when it comes to selling the products themselves, in order to maintain customer loyalty.
Solution
Using clear, high-quality images and descriptions can reduce the amount of returns your company will see. Making sure that your site is optimized for use will help you receive benefits. For example, including precise sizing measurements will help shoppers to know what they are buying before they do. Having an FAQ page on your website can also be helpful.
Creating A Successful Omnichannel Experience
Shoppers expect an omnichannel experience today. Some of them want opportunities to try before they buy. Shoppers want convenience in all areas of their shopping experience. They want the merchandising to span omnichannel. They want to be able to start their purchase online, or finish on the phone (or social media, website, or in person).
Creating an optimized omnichannel experience is therefore very important. Online and offline efforts need to be coordinated and integrated. Shoppers are looking for a personalized experience with consistency across all channels. This is no small task.
Solution
Integrations can help bring this omnichannel experience to life. Start off with someone who will create the omnichannel strategy, particularly when it comes to merchandising this is important. Displays should be synchronized across all channels, including other key features such as font, tone and images. Once the theme has been decided, integrations are the key. Creating a rich eCommerce ecosystem is important.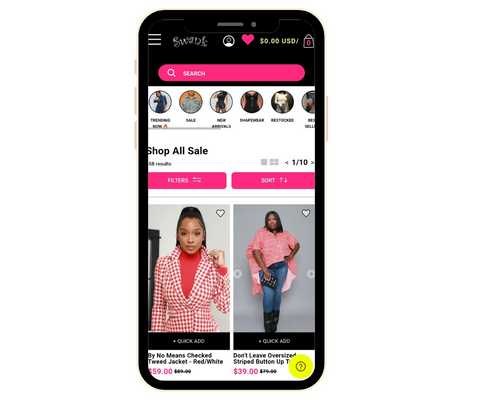 Integrating apps such as Tapcart can be a great way to make sure your omnichannel is optimized. Tapcart creates a mobile app from your website that will give the same feel across channels. Platforms with direct integrations will be key for creating your omnichannel experience. From the look and feel all the way to synced inventory.
Understanding Consumer Insights
Omnichannel can make it harder to interpret data. The best performing channels will always use previous data in order to offer shoppers the best eCommerce experience. The more you know about your customers, the better eCommerce experience you can offer. However the data gathered needs to be understood and interpreted.
Solution
Using a platform with an analytics dashboard and system will provide the customer insight that your business needs. Using insights can help you know which products are most searched for, bounce rates from product pages, which items are abandoned at cart. You can also see how products do on different channels, and any other patterns that emerge.
Conclusion
Although fashion eCommerce has challenges, there are plenty of solutions to these. Ensuring that you are using an optimized platform, with a team working to create the best omnichannel experience possible is a great start. Regardless of the challenges, the fashion eCommerce industry continues to grow, and solutions are created as time goes on.