Business to business (B2B) site search is more complex than business to customer (B2C) site search for several reasons. When businesses are coming to purchase products needed in order for their business to thrive, the stakes are higher on both ends, as well as the precision of the shoppers' knowledge. Because of this B2B search entails different methodologies and strategies such as SKU indexing, customer groups, price lists & fast syncing.
One of the most crucial elements of optimized B2B search is the need for speed. B2B customers know what they are looking for, and want to find it fast. Being able to offer this service is the basis of offering a successful B2B site search.
Differences Between B2B and B2C Site Search
The main difference between B2B and B2C site search is the intention. B2C shoppers are searching for themselves, or maybe their friends. They may be open to browsing, or searching related products; there is room for expansion on their product discovery journey. They may make vague searches in the site search bar, and the purpose of their purchase could be leisurely.
On the other hand, B2B site search is about companies placing orders. The purpose of this purchase will likely be reordering something for a company or shop stock. This means the buyer will have an awareness of the brand, the SKU number and the exact items they want to buy. On average, B2B buyers order 4x the amount that their B2C counterparts do. They also would hardly ever buy something they did not intend to, unlike B2C buyers who are open to inspiration.
B2B brands can be characterized by low search volumes on google, and high competition on limited keywords. Because of this, B2C has more opportunities in terms of SEO and traffic than B2B. On the other hand, B2B makes up for this in revenue as the products are more expensive and the sales are in higher bulk.
A breakdown of the B2B business model therefore, would look something like this:
Fewer customers
Larger purchases
Intentional buying
Longer decision-making
B2B stores need to prove to their potential customers that against the other shops providing the same products, their store is the fastest, most efficient and more professional. This is where the quality of the site search comes in.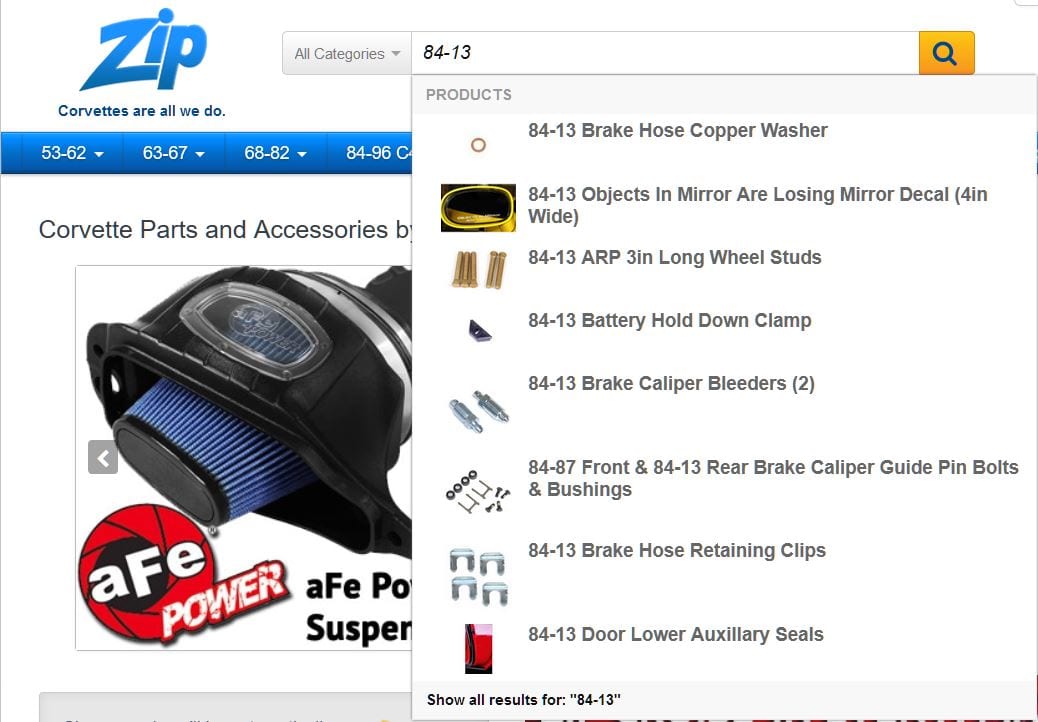 Challenges of B2B Search
Since B2B buyers have the exact product they want in mind, the search function is very important. The site search needs to be able to quickly and accurately find customers the products they need to buy, as 95% of B2B searchers use the search function as a result of the high intent to purchase.
B2B catalogs are much larger than B2C catalogs, which is what makes an effective search so necessary. Without a search, it would be impossible to navigate the products, especially considering the specificity of items being searched for. Category navigation, as found in B2C site search is simply not possible.
The wide volume or products and the predictability of shopping orders both need to be considered to give users the best experience. Since the shoppers know what they want, they need to get there fast, and they need to be satisfied with what they find. They have expectations about price, and they value efficiency.
If a buyer is met with the dread 'No Results' page, they will simply leave the store and go to an alternative, resulting in a permanent lost customer. On the other hand, if done well, boosted B2B site search can increase conversions and revenue, and has the potential of securing high-paying customers for as long as the business lasts.
B2B Best Practices
In order to ensure that your B2B search is up to the highest standard it can be, here are four best practice suggestions to get you started.
Product Finder
Considering the specificity of many of the queries conducted via B2B search, a Product Finder is incredibly useful in allowing buyers to locate the product they are searching for in the fastest and simplest way.
A Product Finder offers buyers to search via dropdown options rather than through typing in text. The most common user model provides dropdowns for the following categories:
Make
Model
Year
This MMY model allows buyers to find specific parts without having to know the exact SKU number or name. In this sense it leaves open the possibility of product discovery. The MMY model is most commonly used in automotive sales, or other practical products such as these. However this doesn't mean these are the only places it can be used. The Product Finder can be modified and customized to fit any business that has specialized products, and are interested in helping customers source these easier.
Machine Learning and Natural Language Processing
An efficient B2B search needs to have strong Natural Language Processing capacities, so that spelling mistakes or typing errors can be deciphered. This system needs to be wide enough to support typical search queries, recommend keywords and suggestions when someone starts typing, and to never suggest products or keywords that are out of stock. The way that shoppers search, regarding brand name, product name and ID should all be considered.
There should be a synonym database, along with Machine Learning that constantly updates in order to optimize search results based on common queries and user behavior, using data it gathers to add patterns. This AI should use real-time click profiles to build a current store profile. Products that are most commonly related to certain queries should appear first on the search results page for user ease. Leveraging ML and NLP will reduce the possibility of the 'No Results' page, ensuring a more positive consumer experience.
In terms of the accuracy of producing correct results for numbers, or partial numbers being typed. Tests such as A/B tests should be run, for both full and partial numbers, in order to give clients the best chance at finding their product. These tests will determine the success of the usability of your search.
Filters & Merchandising
Narrowing down the huge range of products on offer requires sophisticated filters. Dynamic filters can be useful, which change depending on which products are being searched for. This merchandising technique simplifies the buyer's journey. Intuitive filtering and best practices surrounding this will provide an optimal site search experience.
Offering a clear categorization of products to begin with can also give the buyers a head-start into the section they are looking for. Categories can be validated by internal stakeholders, customers and prospective customers, resulting in ease of web navigation and customer satisfaction.
Even though cross-sell and upsell aren't as relevant to B2B search as they are to B2C, there are still merchandising opportunities here that can be considered. There may be cases in which buyers are interested in related products that they could also use for their business.
Analytics
The performance of B2B search should be monitored with an analytics system. This knowledge can offer invaluable insights into what the shoppers are looking for and interested in. This can offer relevant information to the store about which products they should have in store, and information on their buyers; for example whether their searches are bundles or singular products, which words they use to search for products (keywords) and popular SKUs.
Personalization
B2B offers the unique and useful opportunity for personalized customer segmentation. Customer groups can be segmented into groups depending on prices and products. For example, high-volume wholesalers, signed-in users or geo-based groups can all be segments. Each will have a unique customer experience that should be catered for in their own way.
B2B buyers, more than B2C, have huge potential to become repeat buyers. If everything goes smoothly, B2B buyers may return to the site for the exact same purchase every month, or every quarter. Having effective personalization that recognizes the customer and directs them to their usual purchase through 'Recently Searched Products' or 'Recently Purchased Products' demonstrates that their custom is appreciated. These personalization techniques are what separates the customer's journey from the rest, and makes your store one that's worth coming back to.
Attention To Detail
For an optimized B2B site search, don't make the mistake of overlooking the small details. Focusing on conversion, make efforts to improve the look, feel and functionality of the results page accordingly. Comparing the results page to larger retailers like amazon can give you tips about successful layouts. Some more things to consider:
Product images are high definition and varied
Pricing is clear and unambiguous
Add to cart button is functional and visible
Product reviews are available and optimized
If these suggestions are followed, and with some time and effort being invested into your B2B site search, your B2B business will be able to boom.