Anybody involved in eCommerce understands that personalization is an incredibly important marketing tool. Without a personalization experience on your web store, the site lacks the intimate feel that makes customers feel valued and cherished. Happy customers make a happy business, therefore personalization is a must. 
There are some simple ways to personalize your customers' experience, but in the fast moving world of eCommerce, 'simple' on its own just isn't good enough. Let's take a deeper look at the direction personalization is moving in, and what benefits this practice really has to offer.
Personalization
Personalization is the practice of using commerce data available to online retailers to create an easier, more unique and more enjoyable customer shopping experience. Through using knowledge gained about each individual accessing the website, the algorithm presented to each customer will differ. This creates a hand-tailored experience made especially for each visitor.
In physical stores an assistant can approach you as you enter and help you with your shopping experience. They can show you what you are looking for, ask you questions to determine what you're interested in, and find out how they can best act as a good salesperson to you. Personalization is the eCommerce equivalent to this. Just as a store assistant would pick up clues as they talk to you, for example about the colors, styles, or price-ranges you are interested in; the artificial intelligence personalization function performs the same task.
As a shopper is browsing online, the AI processes and stores the information it learns about the customer. It then matches this information against the inventory in real time, in order to help show the customer what actually interests them, rather than the standard inventory shown to everyone. This happens smoothly and seamlessly, giving the customer the optimal and most comfortable shopping experience.
Personalization cuts out the unnecessary, and creates a sleek and smooth pathway to conversions and sales. Why show customers products they will simply never buy, if we know the items they actually are interested in? Why show customers living in warmer climates heavy knitwear, when it won't suit their weather? Why show women the new menswear collections? Any of these suggestions would lead to lower sales, so it's better that they are avoided, and this is what personalization has the power to ensure. 
75% of consumers say that they appreciate it when companies take the time to personalize, so there is no excuse not to. It engages shoppers, ensuring repeat purchases, increase in sales and increase in conversions.
Taking Personalization One Step Further
Challenges Of Basic Personalization
With Covid-19 meaning that more people are doing their shopping online, more people are looking to have online personalized experiences, just as they were used to having in person. Personalization has the ability to fit the customers' needs, but it is no longer simply about giving the customers what they want, it's about allowing customers to consume in the way they want. The ultimate personalization goal is not just to secure sales, but to allow customers to enjoy themselves, finding satisfaction in every step of the way, and ensuring that they return. Repeat customers create more sales long term, with an overall better result for the business.
This is where personalization in its current state falls short. Rather than offering a standard model of personalization, companies need to think outside of the box in order to provide their customers with new and exciting online experiences. As it stands, 94% of marketers agree that personalization is critical to their success, yet up to 75% of these people struggle to implement real-time, personalized content. This is an issue.
Personalization should be more than simple product recommendations. Most brands currently use standard types of personalization data; gender, age and geographical location. This information is usually utilized in a product carousel offered in email, or recommendations. But this kind of marketing can only produce a limited uplift, with an ultimately low uptake. This is because personalization is not just about displaying the catalog, it is about the experience. Each visitor interacts with the business differently, but the business needs to ask itself; what am I trying to achieve through this? The answer should be an experience.
The Next Step In Personalization
Taking personalization to the next level focuses on this overall experience. There are many elements to a customer's online shopping journey that should be taken into consideration, as these all have an impact. Small or big changes can affect the way a customer relates to a brand, and none should be overlooked. Indeed, 56% of consumers say they are more inclined to use an online retailer if it offers a 'good personalized experience'.
Brands have already realized it's necessary to create personalized product recommendations and content, but that is a simplistic point of view. The following modules should also be taken into consideration, as they are also very much a part of the user experience.
Navigation
Filters
Cart
Checkout
Landing pages
Drop-down order
These can all be personalized for each customer, creating a different experience according to individual needs. This innovative use of data available is what will win customer loyalty and generate big uplifts. This is the direction personalization is heading towards.
Take, for example, the search results. Everything down to catalog browsing has the capacity to be personalized. If the product listing and search results page are personalized, the products the customer likes or is most likely to buy can be pushed to the top, increasing the opportunity for sales. This method also applies to the drop-down menu results, landing pages and navigation systems. Results are presented in order to help the customer, by understanding what the customer is looking for and most likely to buy.
The difference with this way of thinking is that it is customer-led. It is not simply the store showing results based on what generates the biggest revenue, as 74% of customers are frustrated if the content is not personalized to their needs. Advanced personalization puts the customers' experience first.
With hundreds of eCommerce stores on the market, it is vital that yours stands out from the crowd. Creating a personalized experience is key to creating customer loyalty, trust and engagement. This will provide big returns in the long run.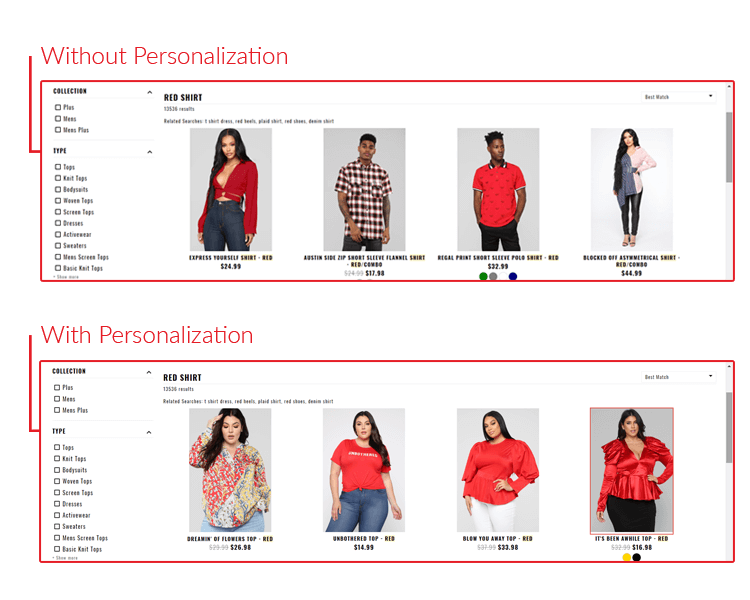 The Fruits Of Personalization
When done well, the benefits of personalization are great. They have the power to create an average of 20% increase in sales which is something that should not be missed. The capacity it has to guide individuals quickly to their desired needs actually ends up providing an experience that would actually not have been possible in a physical store. This is an upgrade in shopper experience that is exclusively available to eCommerce.
For example, real-time information on things such as previous buying patterns, patterns compared to other visitors' past behavior or patterns from segments of buyers with similar characteristics are not available at our fingertips with physical shopping. This myriad of information available is a treasure trove of possibilities that eCommerce stores are wasting if they are not using.
This data can be used to the advantage of the customer and the merchant. It creates an overall easier and more engaging shopping experience for the customer, in turn creating loyal clients for the merchant. With the personalization people have come to know through their social media accounts in their news feeds, it's no wonder people are also expecting this from their shopping experience.
Personalization lets the customers know that you care about them. It shows that your business takes the time to get to know the customer, making them feel valued, as well as boosting revenue in one go. Technology is advanced enough that customers don't need to be having boring shopping experiences. Instead conversion rates can be boosted and cart abandonment can be lowered simply by using data already readily available to us.
Because of the mammoth benefits of this practice, we see it employed all through eCommerce, from giants like Amazon to small local jewelry stores. Whoever you are, personalization has a place in your business.
Fast Simon's Take
Personalization is a highly valued part of Fast Simon's search experience. It is widespread knowledge that customers view personalization as of high importance to their shopping experience, but this needs to be done well. Personalization should be more than just execution, but an integrated approach. The personalized experience connects the data to the execution.
The Fast Simon AI predicts each shoppers' needs, using their unique preferences and in-session intent to personalize their experience in real-time. A unique feature is that the Fast Simon browser stores information on previously viewed items according to a time-frame you decide; a day, a month or a year. Then after personalizing the length, the business can use this data to inform their presentation.
Current Functions
Fast Simon's AI uses real time 1:1 personalization in collections, search and recommendations, meaning that recently viewed items will be displayed in whatever they are now searching. These three personalization vehicles create upsell and cross-sell opportunities, increasing the AOV. By helping customers view products they are actually interested in and more likely to buy, customers using personalization spend more time on site, resulting in a 10% higher conversion rate for personalized shopping sessions (according to Fast Simon's data).
A small but effective personalization Fast Simon's machine learning employs, is saving the customer's filters preference, and then bringing this filter option to the top for all their next searches. These are the kind of small moves that subtly create and shape the customer experience, letting them know that they are valued.
Lastly, Fast Simon's AI implements personalization in their integrations with other platforms. The other software available can help to create personalized campaigns that are beneficial to both parties. This is an innovative way that partners can help one another, ensuring customers on both ends are satisfied.
Up Next
But the personalization efforts don't stop there. As Fast Simon is always looking to improve the customer experience, there is current work underway to use segments in more directly aimed personalization. The merchant can choose the segments it wishes to target, and direct similar campaigns towards people in that category. This means that all people in a category will get a personalized experience, but less effort will be put in on the merchant's end.
To Conclude
Personalization is a win-win situation for the customers, who have a better shopping experience, and the merchants who see an increase in sales. It is for this reason that the experience is worth investing in as a business, rather than relying on the basic level of personalization to 'be enough'.
Taking it to the next level results in a huge effect on the amount of time and effort your company needs to put into merchandising and advertising, as personalization simply does the work for you.
Make the most of the data you have available, and let personalization naturally sort how your customer shops naturally according to their needs. When there are so many shopping experiences available online, it's important that your one truly stands out to every customer that comes to purchase.