Having an optimized eCommerce site search strategy can make all of the difference to your store. How effectively your search bar functions plays a huge role in how successful your store can be. These strategies will help you increase conversions whilst improving brand image and customer loyalty. Let's take a look at how.
What is Ecommerce Site Search?
Ecommerce site search matches the shoppers' search inquiries with the products they are searching for. Regardless of the search they have made, the search should help them reach their intended outcome.
Every eCommerce store will necessarily have a standard search bar- it wouldn't work without it. But an optimized search bar makes all the difference; it takes the customer experience to the next level.
Is Site Search That Important?
In short; yes. 43% of online shoppers go straight to the search bar, and these high-intent shoppers are an important audience segment. This group converts 7-16 times more often than those just browsing, as they are at a different stage in their buying journey. They want to find the product they are searching for straight away. If they can't, they will simply leave your website and go somewhere else.
Having an optimized site search will increase conversion rates by at least 15%, and can help facilitate a 47% revenue growth. On top of this, it will create a positive experience for the customers, therefore growing brand loyalty. It also allows the merchant to grow valuable user data, further understanding buyer preferences.
Let's take a look at some of the strategies that can help achieve this.
Using Data To Inform Decisions
When the search bar is used, the store is presented with valuable data. Through recording and analyzing search data, sales possibilities are discovered. For example, 'No Results' queries can teach you which products you should be selling. Trending searches can show which products are in demand, and future product listings can be planned according to these trends.
Demographic data, such as location, age, gender, and language can all help produce more relevant results. They can also help create more accurate targeted ads. The more you understand your customers, the more you can make better business decisions. If the customer is happy, conversions increase, and everybody wins.
Optimized Search Design
The search box should be designed with clear usability in mind. The last thing you want to do is make customers search for the search bar! It should be clear and easily visible on every page. Its position should be in a normal location, where shoppers expect to locate it. It should have space and be big enough for the whole query to fit in (usually 27 characters is a good size to go by).
A visual clue such as a 'GO' or 'Search Here' can be helpful for first time users. Tooltips or suggestions for first-time visitors also can be factored into design. If users like to click 'Enter' to start their search, make sure this feature is enabled. The shoppers' ease and usability should be the main consideration when it comes to design.
Enable Visual Search
Humans are visual beings; we see with our eyes before anything else. You can take advantage of this by offering images within the search results. This saves time and allows for a clearer product discovery journey. It creates more opportunities for buying inspiration, and it reminds people of social media. Visual Discovery can link from social media to the search bar, where customers can shop via images they have previously seen.
This visual technology will help your search stand out from the rest. It creates a more authentic product discovery journey and makes your search more engaging than just using text.
Using AI Intelligence: Autocomplete
The high-intent users who know what they are searching for want to get there fast. Making sure that people can reach their products as easily and smoothly as possible should be an optimized site search strategy. Autocomplete means that once the shopper starts typing, suggested results are shown before they have finished writing the word.
Showing the shopper that you are helping them along the way shows you care about the user experience. This increases brand loyalty and overall user satisfaction.
Synonyms And Natural Language Processing
Human error dictates that people will make spelling mistakes when they type. The role of Natural Language Processing (NLP) is to ensure that the shopper always finds their search query, no matter the language they used to search it.
If a spelling mistake is made; the AI still understands the desired result. Synonyms for search queries will return the product intended; e.g. 'sweatshirt' will still return results for 'pullover' even though the search term is different.
Natural language can be used to find products the way the shoppers search for it, without needing to know the industry jargon. This NLP system is created by studying the most clicked results to set up product ranking rules. This can save future users the frustration of browsing through irrelevant results.
Depending on the nature of your product, you can work with an optimized site search engine to ensure that your products work. A personalized NLP may be necessary if many products have similar names or SKUs.
Faceted Search
Customers should have access to facets as filters to make their searching journey easier. Details of products such as size, color, product and brand name should all be easy for the customer to select or unselect. Although this might seem obvious, around 40% sites do not offer faceted search. Make yours stand out by using this strategy, and removing any results or sizes that are unnecessary to the shopper.
Optimize Search For Mobile
More and more shoppers continue to search on their mobile devices. It is important to have an optimized mobile search strategy. The mobile search bar should conform to a smaller screen size, it should stay clear and easily visible. Recent searches should be saved (just like on the computer) and scan and autofill options should be used.
Credit card scanning can be used as mobiles have a camera installed. Card details autocomplete should also be available via mobile. On top of that, search prompts for mobile should be adjusted to provide an optimized experience. Considering how many shoppers use their mobiles to make purchases nowadays, not optimizing mobile is a big mistake.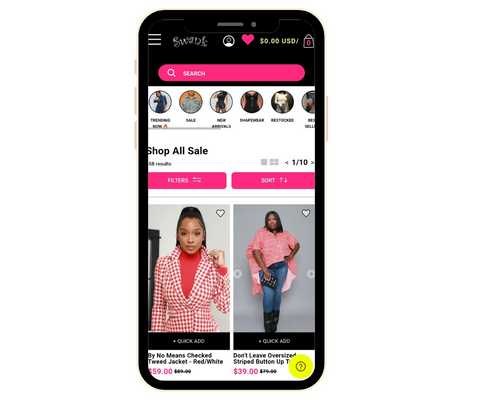 Searchandising
Ecommerce merchandising is not limited to product and collection pages. Including a merchandising strategy in your search bar (also known as Searchandising) creates optimized site search. Embedded product suggestions can benefit the customer and merchant alike, and analytics can help keep track of the effectiveness of a new merchandising campaign.
A searchandising strategy can place certain items higher or lower in the search bar results depending on the merchant and shopper needs. It increases the likelihood of cross-sell or upsell purchases. When done well, searchandising boosts sales, drives KPIs and satisfies customer needs.
Personalization Strategy
If personalization isn't already one of your site search strategies; change that fast! In order to keep the customer happy, personalized results in the search bar should always be used. This can be achieved through remembering filters the shopper previously selected, products they recently viewed, or previously bought items. Other data such as geographical location and language can also help provide a unique shopper experience.
Personalization demonstrates that you care about the customer and their experience. It saves them time, and hugely improves brand loyalty.
Never Waste A 'No Results' Page
The 'No Results' page is every eCommerce site's worst nightmare. Leading a potential sale to a dead end is the opposite of what the store should be doing. Instead, if it does occur that no results are returned; this should be used as a lead. By directing the shopper to another page, you can build customer trust. Rather than abandoning them, you can suggest somewhere else appropriate and helpful to them.
Rather than leaving the customer feeling depleted, your search bar should provide hope. The right product is still just around the corner, and you are there to help them find it.
Conclusion
There are many different methods that can be used to create an optimized search strategy. Any one of the above strategies will help boost your sales and customer loyalty. If you're able to incorporate all of them together, you're on to a highly optimized site search.