Site search continues to transform and grow at a rapid rate. Being the most crucial part of the eCommerce experience, it's no surprise that customers expect merchants to be offering an optimized site search that is up to date with the latest trends. Let's take a look at what some of the top site search trends are now.
Accessibility
Website usability shouldn't be contingent on external factors. Instead, any site visitor to your store should be able to access the full benefits of your site search. This is whether they have a disability or impairment, and whichever platform they access your website from.
This is necessary in 2023 from a regulatory perspective, as well as for the ethical sake of inclusion. These considerations should be taken when creating a site search for all users.
Optimized AI
No site search in 2023 would be complete without the capacities of advanced AI and machine learning. Synonym and antonym suggestions, autocorrect, autosuggest and natural language processing are all capacities that are offered through this.
All of these methods allow shoppers to find what they are looking for, no matter the text they use to search. As we move into 2023, we also have Vector Search capacities, allowing search results to be found in a more humanized way than ever before.
Taking advantage of these advancements will offer a more intuitive and user friendly user experience than ever before, that will keep shoppers coming back.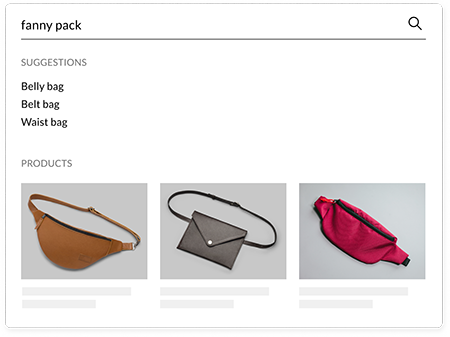 Personalized Search
As AI grows, so too do personalization capacities. These should be included in site search, of course. This is because each search is individual to the shopper searching. Real-time profiles such as previously searched behavior, location and user intent can all be taken into consideration here. Offering personalization in search takes the user experience to the next level.
Images In Search
Using thumbnail images in search creates a streamlined experience that closely mirrors the shopping experience in brick and mortar stores. We first view with our eyes, so giving shoppers the opportunity to visually see the results of their search can speed up the choosing process.
It also provides the opportunity for natural inspiration, as visual discovery may highlight to them something else they want. These extra elements make all the difference, especially to low-intent shoppers who are more open to browsing and being inspired.
Merchandising In Search
It's a misconception that merchandising can only be used on product or collections pages. In fact merchandising can be an effective solution all over the site, including on site search. Combining search and merchandising; also known as 'searchandising' combines business objectives and goals with what shoppers see.
This can help promote business goals, but can also help the shoppers. For example, if the most popular products are shown closer to the top of the search results menu, this could encourage more purchases of this.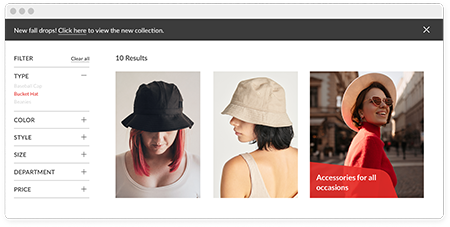 Faceted Filters
Faceted search, also known as smart filters, can help customers narrow down their search results in a way that suits them. Personalization can also be applied here, so the filters can be stored from the last time the shopper used the search.
Using faceted filters speeds up the filtering process, and it also helps the user experience. There's no need for a shopper to see search results for a color they know they are not going to buy, for example. Faceted filters help to avoid this.
Conclusion
These are just some of the eCommerce site search trends that apply to site search in 2023. New improvements are being developed all the time, and these will be added as time goes on. For now, making sure the search is as user friendly and efficient as possible is the best way forward.